So you're going to visit Reykjavik. Excellent. We're sure you won't be disappointed. Not only is it the starting point for many adventures in Iceland, but also the city itself has lots to offer. So, to help you plan for your trip, here are our top things to see and do in Reykjavik list. Enjoy!
Take a tour of the city with a local.
You probably would expect me to say that, given that I'm a local guide with Gray Line Iceland. However, in all seriousness, exploring the city with a local guide is the best way to experience it. We'll take you to the best sights. You won't miss anything. We'll also share local knowledge on the best places to try when it comes to enjoying the unique atmosphere of Reykjavik. Our guest Carlywho visited earlier this month said via TripAdvisor: "Although Reykjavik itself is small, I highly recommend a tour using Gray Line. We were very fortunate to have great weather and each stop was spectacular, great views and sufficient time at each stop! This trip has been one of a lifetime and would recommend Iceland to everyone. Shout out to Darren."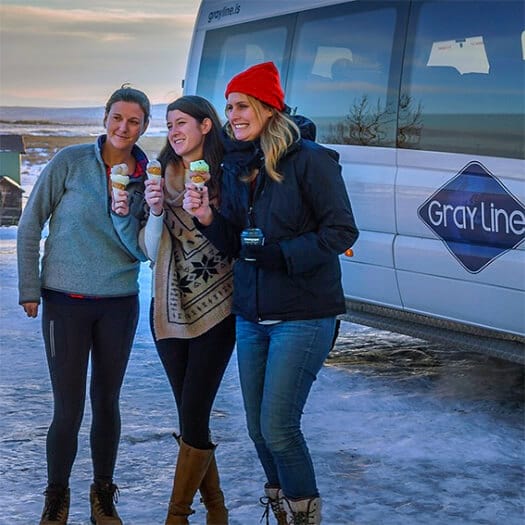 Gray Line Iceland can help you explore the city. (Ice cream optional!)
#GrayLineIceland #VisitReykjavik #FindAReasonToGo
Eat.
For a city of its size, Reykjavik has a fantastic selection of restaurants – with all sorts of fabulous cuisine to try. You won't be short of options. However, if you want to try something Icelandic – look out for local delicacies like cod's head cooked in chicken stock. By the harbour, you might find seafood restaurants selling another delicacy – whale meat; obviously it's not everyone's taste, morally or otherwise. The flea market also sells fermented shark meat – we're never sure whether this is a delicacy or a dare!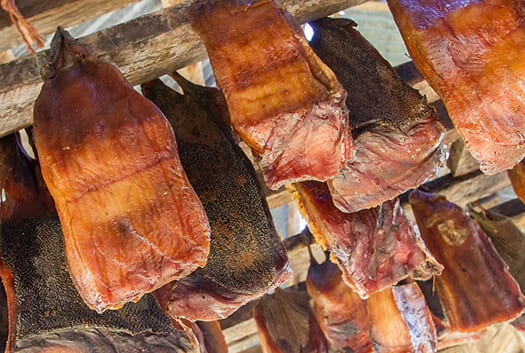 Fermented shark meat – an Icelandic delicacy…or dare?
#GrayLineIceland #VisitReykjavik #FindAReasonToGo
Enjoy the view.
Hallgrímskirkja church is the largest in Iceland. Lava columns inspired its design. You can climb or take the lift to the top of the church for a wonderful view of the city. The Perlan glass dome, which is built on the city's hot water tanks, has a viewing platform that gives a fantastic 360-degree view of the city, also.

The beautiful view of Reykjavik
#GrayLineIceland #VisitReykjavik #FindAReasonToGo
Höfði house.
The house dates from 1909 and is historically significant because in 1986, President Ronald Reagan and Mikhail Gorbatsjov met here for a summit, which effectively marked the end of the Cold War.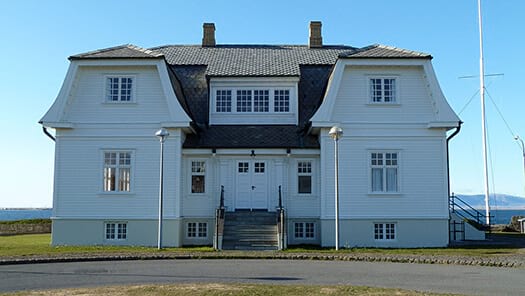 Höfði house – a beautiful and historical house. (image: Wikimedia)
#GrayLineIceland #VisitReykjavik #FindAReasonToGo
Check out the wildlife.
From Reykjavik harbour, you can head off on an Icelandic whale-watching trip on Faxaflói bay. You'll see whales and dolphins in their natural habitat as well as some wonderful birdlife.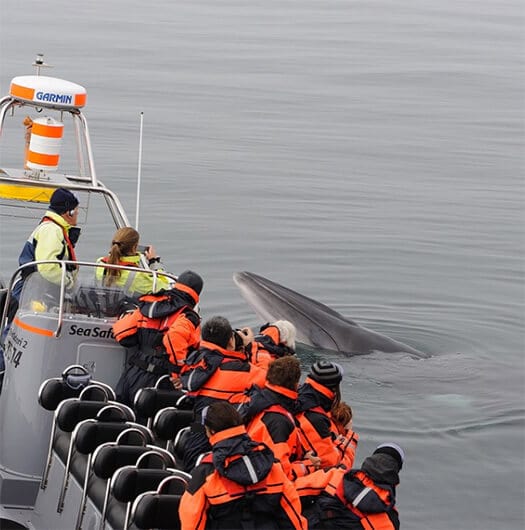 Up close and personal with the wildlife via Reykjavik harbor.
#GrayLineIceland #VisitReykjavik #FindAReasonToGo
Solfar Sculpture.
Bring your camera because this is a wonderful photo opportunity. This steel structure is on the waterfront and it looks like a Viking Long Ship and is a nod to the influence of the Vikings on our country.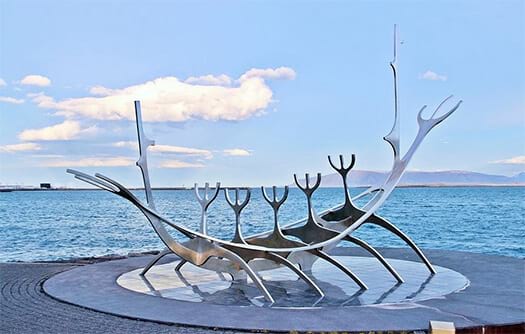 The solfar sculpture in Reykjavik.
#Sunvoyager #GrayLineIceland #VisitReykjavik #FindAReasonToGo
Check out the nightlife.
In one of our previous posts we mentioned that Reykjavik has earned a reputation as a party city. At the weekends, our clubs stay busy until 4 or 5am. The atmosphere is even better during one of the city's festival or celebrations like Airwaves music festival, Beer Day, Gay Pride or New Year's Eve. Even if you don't want to party until the sun comes up, there's a great choice of relaxed and chilled bars to try. Ask your guide on which is best!

Reykjavik by night – it's a very sociable city!
#GrayLineIceland #VisitReykjavik #FindAReasonToGo
Swim at the Blue Lagoon.
Once you are finished touring the city, head out to the Blue Lagoon – a wonderful geo thermal spa. You can read more about the Blue Lagoon here.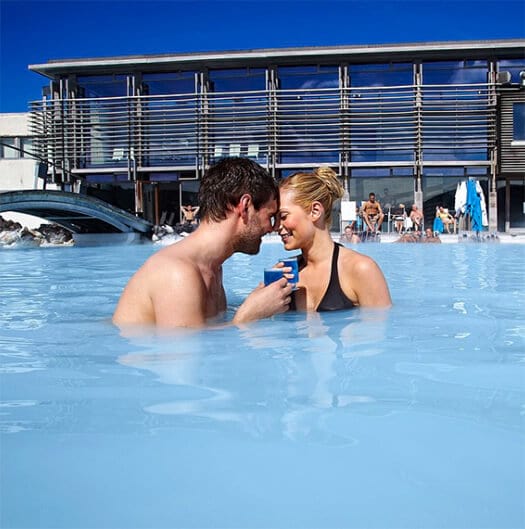 Swim in a geo thermal spa at the #BlueLagoon
#GrayLineIceland #VisitReykjavik #FindAReasonToGo
Play a game.
For something completely different, why not challenge yourself to 60 minutes of problem solving and teamwork hosted by us at Gray Line Iceland. In the Prison Break live game, you and your teammates have been framed for murder. Your only chance to escape death row is to break out of prison by solving a series of problems and challenges. Sounds interesting?!
Get out of town!
Reykjavik is a wonderful base for exploring the rest of our country. From here – head out to experience the beauty of the northern lights, the amazing Geysir hot spring or beautiful and powerful waterfalls. The come back to experience more of the friendly atmosphere of our capital city, Reykjavik.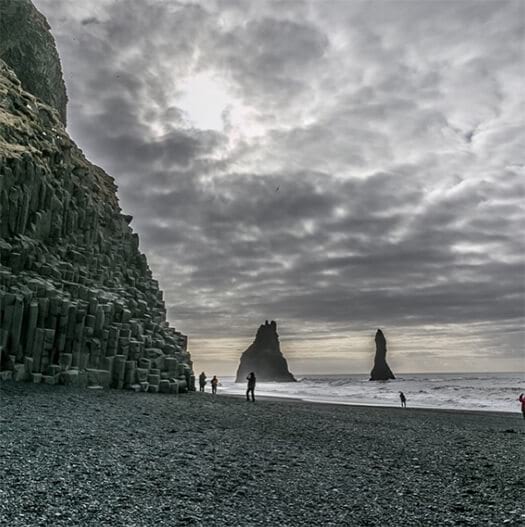 From Reykjavik, head out to see the beauty of our country like Reynisdrángar Vik Í Mýrdal, not far from the capital.
#GrayLineIceland #VisitReykjavik #FindAReasonToGo
How Gray Line Iceland can help you explore Reykjavik and Iceland
If you are planning to visit Iceland, then talk to our team at Gray Line Iceland – our passion is helping you discover our country. We offer tours of Reykjavik and many amazing Icelandic tours and vacation packages as well as travel transfers.
Visit our website at grayline.is for full details. Or find out what our previous guests thought about us over at our TripAdvisor or Facebook pages.
The Gray Line Iceland team looks forward to hopefully meeting you soon.
Bless. Bless.
The Gray Line Iceland Team