Hallgrimskirkja Church in Reykjavik
Perhaps the most photographed site in all of Reykjavik, Hallgrimskirkja church is more than just a funny name and a rocketship-esque facade. Get the skinny on Reykjavik's most beloved concrete monolith with these five fun facts.
1. How do I say Hallgrimskirkja?
Like many Icelandic place names, "Hallgrimskirkja" can be a doozy. While the actual pronunciation defies your average keyboard, a pretty good approximation is HALL-creams-kirk-yuh. It means Hallgrimur's church. This brings us to the next question...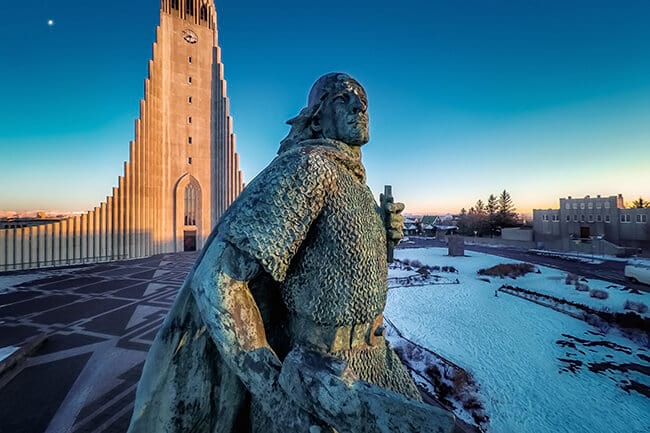 2. Who is this Hallgrímur fellow and why does he get a church?
Hallgrímur Pétursson was a 17th-century minister and poet who penned the "The Passion Hymns", which became wildly popular and to this day is read at Icelandic homes (and even broadcast on the radio) during Lent. Contrary to common sense, the winsome statue in front of Hallgrimskirkja is not Hallgrímur himself, but rather Leifur Eiríksson, better known to the rest of the world as Leif "the Lucky" Erikson.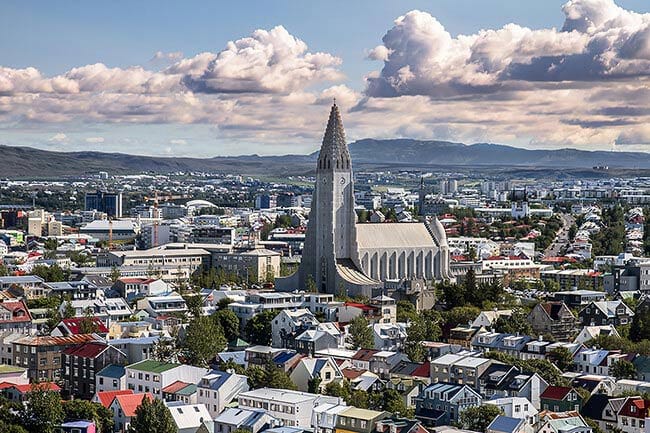 3. When was this beauty/monstrosity built?
Designed in 1937, Hallgrimskirkja didn't get underway until 1945, and the nave was only completed in 1986. Throughout its 40+ years of construction, the church on the hill was a controversial project as many saw it as an ostentatious waste of public funds, but Icelanders have come to embrace their monumental tower in all its concrete glory. So much so that, together with the statue of Leifur Eiríksson, it has become one of the most iconic landmarks in Reykjavik (and certainly one of the most Instagrammed).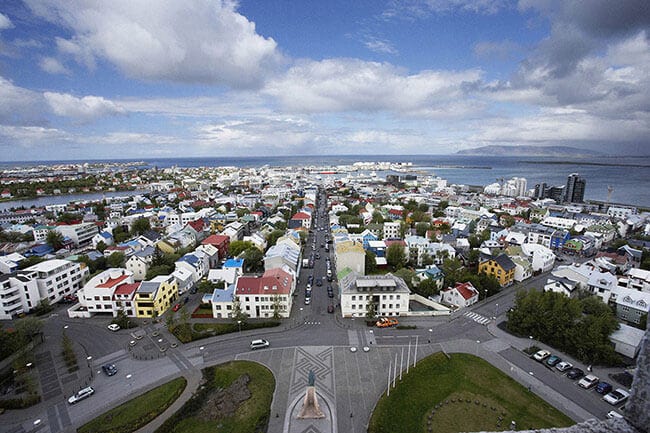 4. How tall is Hallgrimskirkja?
Clocking in at 74.5 meters (244 feet), Hallgrimskirkja is the tallest building in Reykjavik. And perched atop Skólavörðuholt Hill downtown, it towers over the historic center of the city. One of the best panoramic views of the city is from the observation deck at the top of Hallgrimskirkja's steeple.
5. Why does Hallgrimskirkja look like it's about to take off?
Hallgrimskirkja church was the crowning achievement of Icelandic State Architect Guðjón Samúelson. Guðjón belonged to the "go big or go home" school of architecture, and Hallgrimskirkja is no exception. In his efforts to create a national style of architecture, he drew his inspiration from Icelandic nature: the looming mountains and sweeping glaciers. Most notably, the church's towering steeple and wings are styled after the unusual columnar basalt formations along Iceland's coast.
Get the inside scoop on Hallgrimskirkja church and learn much more about our distinctive capital on Gray Line's Reykjavik City Sightseeing Tour. With multiple daily tours, it's a great way to get to know the city and decide how to spend your time in Reykjavik.