This is the time of year when the daylight hours kick into high gear and the days feel like they're getting exponentially longer. The flowers are even in bloom. That means lots of outdoor activities and Icelanders spending more time camping and relaxing at their summer houses. Frolicking in the great outdoors and soaking in geothermal pools is the best way to spend your time if you're thinking of coming to Iceland in May.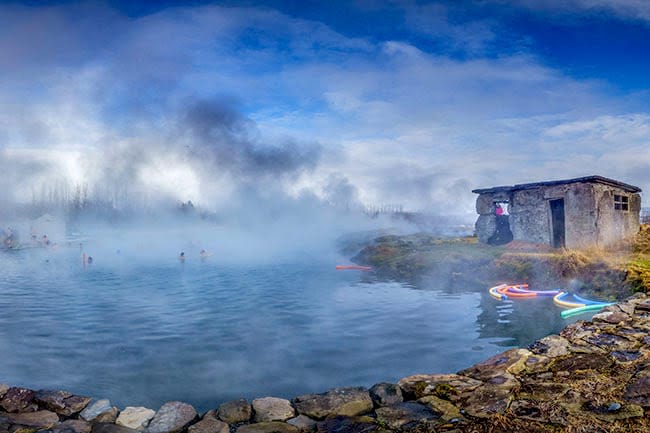 What to Do
SOUTH ICELAND AND PARAGLIDING ADVENTURE
Experience the unique view of Iceland's South Coast from the air on a paragliding adventure. First, take in the astounding beauty of the south coast, including spectacular waterfalls and mountains. Then, strap in for a tandem paragliding experience, and enjoy the stunning landscape from on high as you soar through Icelandic skies with certified pilots at the helm (no previous experience necessary).
What better way to enjoy being out in Icelandic landscape than soaking in a geothermal pool surrounded by mountains and moss-covered stones on a day that seems to never end? Leave the city behind and take a trip to the Secret Lagoon, the perfect place to literally submerge yourself in the beauty of Iceland.
GOLDEN CIRCLE CLASSIC & FONTANA GEOTHERMAL BATHS TOUR
If you want to get out into the countryside, soak in a geothermal bath and still get in some of those must-sees you've heard so much about, the Golden Circle combined with a visit to the Fontana geothermal baths is the way to go. You'll visit Thingvellir, Gullfoss, and Geysir geothermal area and end the day at Fontana where you can enjoy the baths or simply get a bite to eat at the cafe.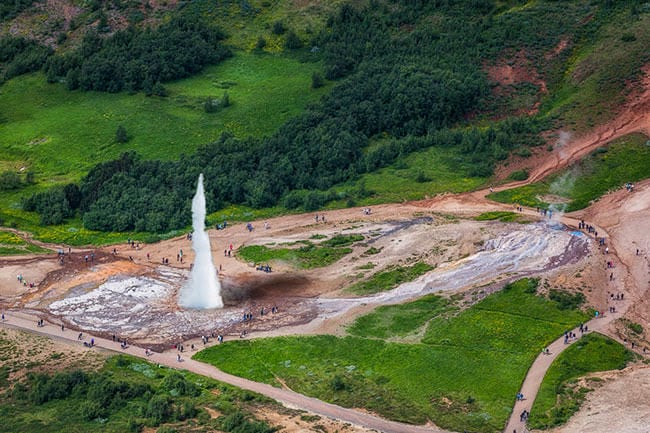 What is the Weather Like?
On average, there's not as much rain in May as in the winter, and the temperature ranges from 4º C - 10º C (40º F - 50º F). And because of the longer days, even if you run into inclement weather, you have a pretty good chance of enjoying lovely weather at some point in the day.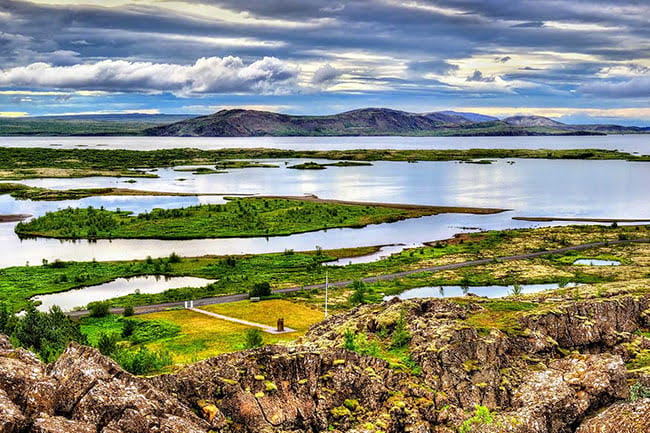 What to Pack?
Even though there are longer days, you'll still want to dress in layers, including a waterproof jacket. There is always the possibility that a day that starts off warm and sunny can turn cold and rainy later on—that's Iceland. It's best to come prepared with at least three layers, hats, scarves, gloves, and warm socks. Don't forget sunglasses and sunblock as well. The sun may not seem as intense in Iceland, but you will be exposed to it for much longer than you're normally used to.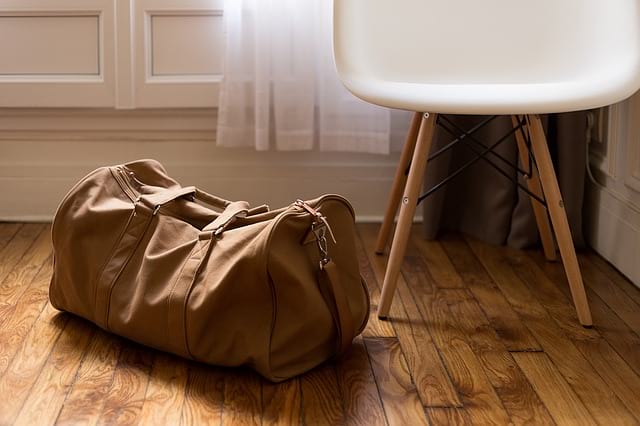 Enjoy the Daylight
Iceland begins May with almost 17 hours of daylight and ends it with 20 hours of daylight and after the dark months of winter, Icelanders really take pleasure in going out into nature to recharge by soaking in geothermal baths or alternately spending quiet time by some of the many gorgeous lakes and at the seaside. You won't find party boats and jet skis in these waters (too cold) just peace, quiet and tranquillity.