People come to Iceland on all different types of breaks. Some come to spend a week or more here. Others plan to spend a shorter break-in Iceland – given the availability of flights and the reasonable flight times from elsewhere in Europe. Sometimes people have even less time to spend with us - landing in Iceland as part of a layover en-route across the Atlantic. So if you are planning to visit Iceland, but your time with us will be short, here's our advice on how to make the most of a short stay in Iceland:
Reykjavik City Tour.
Spend a day touring Reykjavik. The top of our list of recommendations is to take a tour with a local. You'll cover the best sights and they'll share those interesting stories and tales that only local people know. It'll really bring home the spirit of this unique and friendly city. Look no further than the Gray Line Iceland's city sightseeing tour of Reykjavik – where a local tour guide will introduce you to the city's top attractions, our history and culture. Once you've done the tour and you have your bearings, you can then enjoy the city's food scene - for a city of its size Reykjavik has a fantastic choice of restaurants. You could even try some of our Icelandic delicacies – like cod's head cooked in stock. We recently wrote a blog on touring Reykjavik, which you can check out here.
Do the Golden Circle Tour.
The Golden Circle is the name of a route that covers three of Iceland's most important sites- the Þingvellir National Park, hot springs at Geysir geothermal area and Gullfoss waterfall. This tour is a must-do when you visit Iceland – as the sights are both fascinating and striking. Taking each one in turn, here's what you can expect to see as you travel around the Golden Circle:
Þingvellir National Park – this is the site of the Alþingi assembly, one of the oldest parliament in the world and the cradle of democracy in Iceland. It is also home to Iceland's largest natural lake and is the site where the tectonic plates of North America and Eurasia split. It's also beautiful and peaceful.
Hot springs at Geysir geothermal area – where you'll find the Strokkur hot spring, which shoots hot water up to 30 meters into the air. It's an iconic Icelandic experience.
Gullfoss waterfall – a visually stunning waterfall. It's also situated in some really beautiful Icelandic countryside.
Our guest Bella H said on TripAdvisor in December last year: "This tour is a must if you want to see some of Iceland outside Reykjavik in a short time especially the national park, geysers, and waterfalls. The tour guide was very knowledgeable and a very pleasant lady who provided the right amount of information at the right time throughout the tour. Overall view: reliable, comfortable, efficient and good value."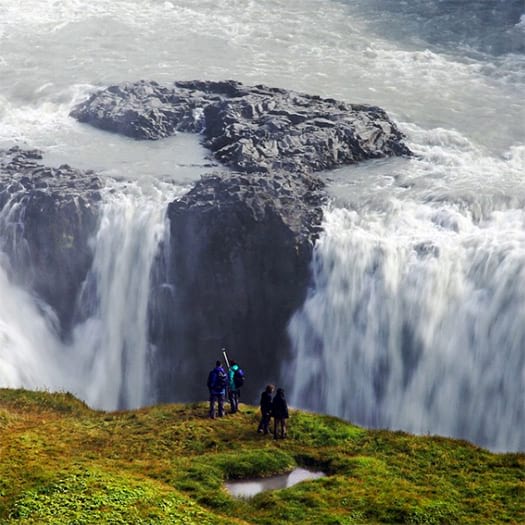 Experience the force of nature that is the Gulfoss waterfall on the Golden Circle tour
Head to the Blue Lagoon.
The Blue Lagoon Iceland is a geothermal spa that's situated on an 800-year-old lava field on the Reykjanes Peninsula – a UNESCO geopark. The lagoon's water is geothermal seawater and originates 2,000m below the surface. As it travels to the earth's surface it picks up silica, algae, and minerals, which make it rejuvenating for your skin. It's a beautiful place to take a dip – not only is the water good for your skin, the surroundings are beautiful, and oh so relaxing.
Experience some Geothermal bathing at the Blue Lagoon
Attempt to see the Northern Lights
If you are visiting from September through to late March then there's every chance you might see the Northern Lights – a stunning natural light show otherwise known as the Aurora Borealis. If you are lucky enough to see them it looks like there are streams of light dancing in the sky – bright green, white and sometimes pink.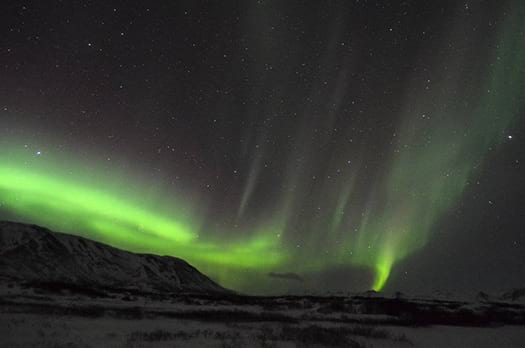 The image of the Northern Lights will stay with you long after you've left for home
Make the most of the midnight sun.
If you plan to visit Iceland during the summer – June and July specifically, the sun will only set for around 2-3 hours, and less than that if you travel further north, so there's plenty of time to see your beautiful surroundings, even if your time with us is short.
Bring your diary.
We know that even if you spend a short time in Iceland, you will want to schedule a return trip, so bring your diary and book up!
How we can help you see Iceland.
Gray Line Iceland is the sightseeing expert in Iceland. If you are visiting our country for a short period of time, we'd be delighted to help you make the most of your trip. We run tours to all of the sights listed above, and more! You can visit our website at grayline.is for full details on these, as well as airport transfers to and from your hotel.
Find out what other guests thought about us over at our TripAdvisor or Facebook pages.