Day Tours to Create Unforgettable Memories
Iceland, a land of fire and ice, is a dream destination for many travelers. With its stunning landscapes, unique geology, and rich culture, it's no wonder why so many people want to experience this Nordic paradise. If you're planning a short stay in Iceland, you'll want to make the most of your time and see as much as possible. That's where Gray Line Iceland´s day tours come in. These expertly planned excursions offer a convenient way to explore some of the country's most iconic sites and hidden gems, making your trip truly unforgettable.
In this comprehensive guide, we'll cover the top Iceland day tours you should consider for your short stay. From the famous Golden Circle to the mesmerizing Northern Lights, these Reykjavik day tours and Iceland bus tours offer something for everyone. So, pack your bags and get ready for an adventure of a lifetime!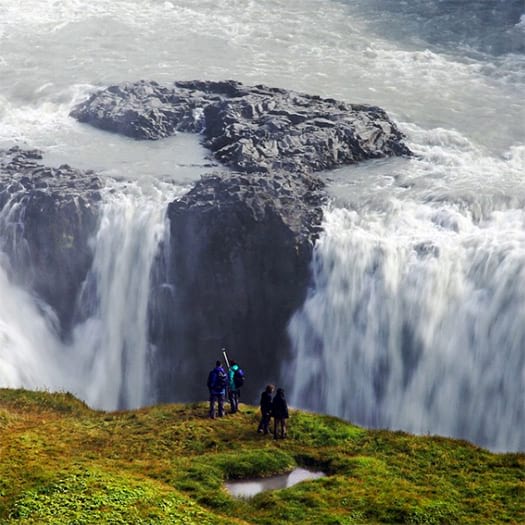 Golden Circle Tour: Explore Iceland's Iconic Landmarks
The Golden Circle Tour is one of the most popular day tours in Iceland and for good reason. This route takes you through some of the country's most iconic landmarks, including Thingvellir National Park, Geysir hot springs area, and Gullfoss waterfall.
Thingvellir National Park
The first stop on your Golden Circle tour is Thingvellir National Park, a UNESCO World Heritage Site. Here, you can witness the continental drift between the North American and Eurasian plates and explore the site where Iceland's ancient parliament, the Althing, was established.
Geysir Hot Springs Area
Next up is the Geysir hot springs area, home to the famous Strokkur geyser. This active geyser erupts every few minutes, sending a spray of boiling water and steam up to 30 meters high. The area also features numerous other geothermal features, including bubbling mud pots and colorful mineral deposits.
Gullfoss Waterfall
The grand finale of the Golden Circle tour is Gullfoss, a powerful two-tiered waterfall on the Hvítá River. Gullfoss, which translates to "Golden Falls," is a stunning sight to behold, as the water cascades over a 32-meter drop into a deep canyon below.
Gray Line Iceland offers a fantastic Golden Circle tour that covers all these attractions and more. This full-day excursion is perfect for those short on time but eager to experience Iceland's natural beauty.

Blue Lagoon Tour: Indulge in Iceland's Famous Geothermal Spa
No visit to Iceland is complete without a dip in the famous Blue Lagoon, a geothermal spa known for its healing mineral-rich waters and stunning silica mud. The Blue Lagoon is a must-visit for relaxation and rejuvenation during your short stay in Iceland.
Gray Line Iceland offers a Blue Lagoon Tour that includes transportation to and from the spa, giving you ample time to soak in the soothing waters and enjoy the spa's many amenities.

Northern Lights Tour: Witness the Magic of the Aurora Borealis
One of the most sought-after experiences in Iceland is witnessing the magical Northern Lights or Aurora Borealis. These ethereal lights, which dance across the sky in shades of green, purple, and red, are caused by solar particles interacting with Earth's atmosphere.
The best time to see the Northern Lights in Iceland is between September and March when the nights are longest. While there's no guarantee that you'll see the lights during your stay, joining a Northern Lights tour significantly increases your chances, as expert guides know the best spots and conditions for viewing.
Gray Line Iceland offers a Northern Lights Mystery Tour that takes you on a thrilling hunt for the elusive Aurora. With knowledgeable guides and comfortable transportation, this tour is a must for anyone hoping to catch a glimpse of this natural wonder.
Iceland's South Coast Tour: Discover Stunning Waterfalls and Black Sand Beaches
A visit to Iceland's South Coast is an absolute must for any traveler. This beautiful region is home to some of the country's most spectacular landscapes, including breathtaking waterfalls, dramatic cliffs, and striking black-sand beaches.
Seljalandsfoss and Skogafoss Waterfalls
The South Coast is known for its incredible waterfalls, and two of the most famous are Seljalandsfoss and Skogafoss. Seljalandsfoss is unique in that you can walk behind the cascade for a truly immersive experience. Skogafoss, on the other hand, is one of Iceland's largest and most powerful waterfalls, with a drop of 60 meters.
Reynisfjara Black Sand Beach
One of the highlights of any South Coast tour is a visit to Reynisfjara, a striking black sand beach. The beach is famous for its basalt columns, which rise dramatically from the shoreline, and the Reynisdrangar sea stacks, which stand sentinel just off the coast.
Gray Line Iceland offers a South Coast Classic Tour that covers all these attractions and more. This full-day tour is an excellent way to experience the diverse beauty of Iceland's South Coast.
Inside the Volcano Tour: Journey to the Center of a Dormant Volcano
One of the most unique experiences you can have in Iceland is exploring the inner magma chambers of a dormant volcano. The Thrihnukagigur volcano offers a rare opportunity to journey into the heart of a volcano and witness the incredible colors and formations created by ancient lava flows.
The Inside the Volcano Tour by Gray Line Iceland is a once-in-a-lifetime experience that should not be missed. This tour takes you through the tunnels of Thrihnukagigur, where you'll learn about the science and history of Iceland's volcanic activity while admiring the stunning rock walls.
Whale Watching Tour: Encounter Iceland's Gentle Giants
Iceland is one of the best places in the world to go whale watching, thanks to its nutrient-rich waters and diverse marine life. A whale-watching tour offers the chance to see these gentle giants up close, as well as other marine species like dolphins, porpoises, and seabirds.
Gray Line Iceland offers a Whale Watching Tour that departs from Reykjavik's Old Harbor. This tour is perfect for those looking to get a taste of Iceland's rich marine life during their short stay.
Glacier Lagoon Tour: Explore Iceland's Stunning Glacial Landscapes
Jokulsarlon Glacier Lagoon is one of Iceland's most stunning attractions, where massive icebergs float in a serene lagoon at the foot of Vatnajokull Glacier. A Glacier Lagoon tour is an excellent way to experience the beauty of Iceland's glacial landscapes and even get up close to the icebergs on a boat tour.
Gray Line Iceland offers a Glacier Lagoon Tour that takes you on a full-day adventure to this incredible site. The tour also includes stops at other South Coast attractions like Seljalandsfoss and Skogafoss waterfalls.
Snaefellsnes Peninsula Tour: Discover the "Iceland in Miniature"
The Snaefellsnes Peninsula, often referred to as "Iceland in miniature," is a region that showcases the country's diverse landscapes in a compact area. From black sand beaches and dramatic cliffs to volcanic craters and charming fishing villages, a tour of the Snaefellsnes Peninsula is a great way to experience the best of Iceland during your short stay.
Some highlights of a Snaefellsnes Peninsula tour include Kirkjufell mountain, the picturesque fishing village of Arnarstapi, and the black sand beach at Djupalonssandur. Gray Line Iceland offers a Snaefellsnes Peninsula Tour that covers all these attractions and more.
Reykjavik City Tour: Get to Know Iceland's Vibrant Capital
Reykjavik, Iceland's capital city, is a vibrant and colorful destination with a rich history and culture. A Reykjavik city tour is a great way to get to know the city and its main attractions, including the iconic Hallgrimskirkja church, Harpa Concert Hall, and the Sun Voyager sculpture.
Gray Line Iceland offers a Reykjavik City Tour that takes you on a guided exploration of the city's highlights, providing insights into the city's history and culture along the way.
With so many incredible Iceland day tours to choose from, you'll be able to make the most of your short stay in this breathtaking country. Whether you're seeking adventure, relaxation, or a bit of both, these Reykjavik day tours and Iceland bus tours have you covered. So, don't wait any longer, and start planning your unforgettable Icelandic adventure today!