The best things to do on a stormy day in Reykjavik
Has the weather had an impact on your plans for sightseeing in Iceland? If your day tour to any of Iceland's natural and historical sites has been canceled due to weather, here are a few suggestions for things you can do in Reykjavik:
Fly Over Iceland

Go on a virtual flight over Iceland and explore countless natural wonders. Full motion seats and a huge wrap-around screen, combined with special effects and a musical score, make you feel like you are flying over many of Iceland's most iconic sites. Some of the locations you can experience on this thrilling ride are very remote and difficult to access, so this is by far the best way to see them.
https://grayline.is/tours/fly-over-iceland
Perlan Museum

Perlan is one of Reykjavik's most iconic buildings, on top of Öskjuhlíð hill. Inside, there are a few different exhibitions on the wonders of Iceland. One of those exhibitions is a real (man-made) ice cave, located in one of the old water tanks. Walking through it, you will feel like you are actually inside one of Iceland's glaciers. Then there is the planetarium, where you can watch a beautiful film that tells you all about the Northern Lights. Other exhibitions include a virtual bird cliff and an interactive volcano experience.
https://grayline.is/tours/reykjavik/perlan-museum-glaciers-and-ice-cave-8706_191
Whales of Iceland

Do you want to walk among giants? Here you can see life-size models of whales found in Icelandic waters. You can also learn many interesting facts about these fascinating animals through the interactive information screens, watch videos, try out the virtual reality glasses where you'll feel like you're swimming with whales, or just close your eyes and imagine you're floating in the ocean while listening to whale songs. A visit to the Whales of Iceland exhibition is fun and informative for the whole family.
https://www.whalesoficeland.is/
Reykjavik Escape

Are you good at solving puzzles and riddles? Reykjavik Escape has several different escape rooms, where you need to use your mind to figure out how to get out of a locked room within 60 minutes. It's challenging, fun, and a great way to spend time with friends and family.
https://www.reykjavikescape.com/
Visit a local swimming pool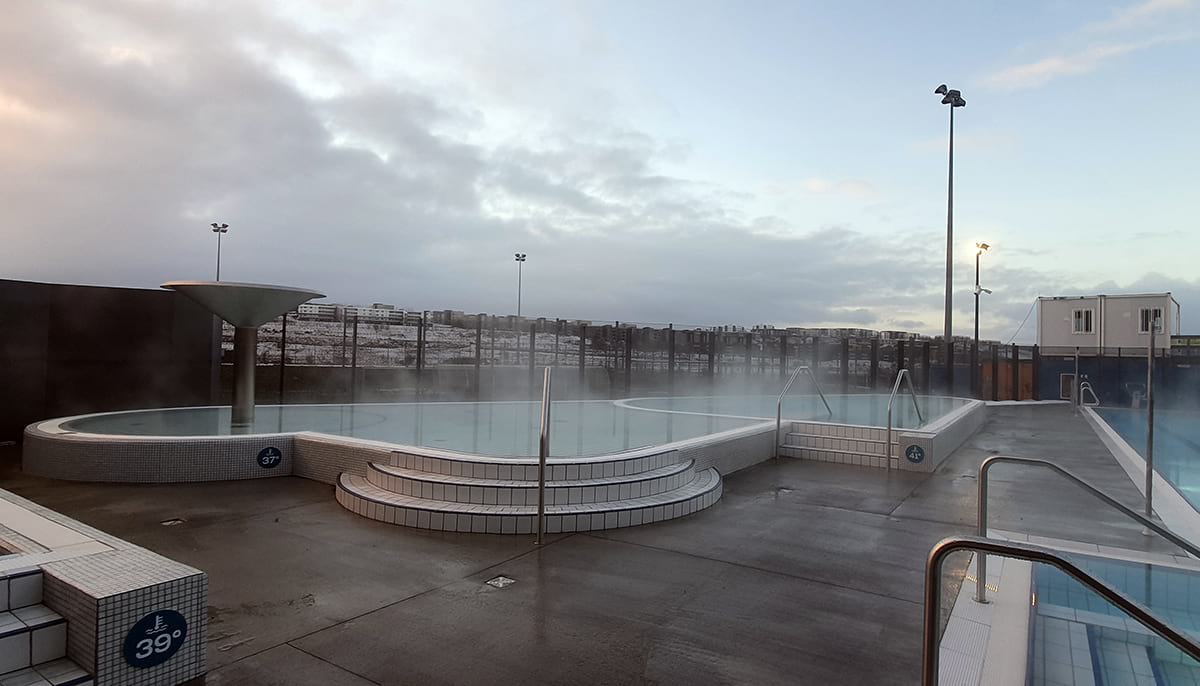 There are multiple public swimming pools in Reykjavik, and the locals visit them frequently all year round. You can swim a few laps in a geothermally heated pool (some locations have both indoor and outdoor pools), go on the water slides or try the saunas before getting into one of the outdoor hot tubs and relaxing. And it doesn't matter if it's raining or snowing, since you're already wet!
Here you can get information on all the swimming pools in Reykjavik: https://visitreykjavik.is/geothermal-pools-reykjavik
Netflix and chill

If you would rather not leave your hotel room, you can still get a taste of Iceland through the magic of Netflix. If you want to binge-watch a thrilling TV series set in Iceland we can suggest either Brot or Katla, but if you prefer something funny we recommend watching Ari Eldjárn's hilarious stand-up special "Pardon my Icelandic".
https://www.netflix.com/is/title/81043833
https://www.netflix.com/is/title/81133094
https://www.netflix.com/is/title/81337086