Accomidatons in Reykjavik
So, you're planning a vacation to Iceland? Great choice! As the country's top sightseeing experts, we all live and work here and spend a lot of time talking to visitors, so we've picked up some great information on Iceland's accommodation options. To help you plan your trip, we thought we'd share what we've learned by putting together this insider's guide to choosing accommodation in and around Reykjavik.
Here's what we know about accommodation in and around Reykjavik:
Apartments
Self-catering apartments are available in Reykjavik, and there are several to choose from. Some travelers prefer the flexibility and independence they offer. They are also a good option for families or those traveling in groups. The cost usually comes in anywhere between the price of a hostel and a good hotel. One of the advantages is that it can be a cheaper option, and you'll be able to save money when it comes to meals because you can shop and cook at home. As well as apartments in town, there are also self-catering holiday cottages on the edge of the city, which may offer you the best of both worlds.
Hotels
Reykjavik offers a lot of choices for hotels, and more recently the number of higher-end hotels has increased. That said, you could pretty much find a hotel for any budget. Slightly out of town are the Hilton Reykjavik and the Radisson Blu Hotel offering great views and restaurants. Both are at the upper end of the budget. There are several design-driven hotels in Reykjavik, such as the Hotel Borg in the city center, which has a reputation for being ideally located and sophisticated. Inside the city center is Fosshótel – it's a chain that offers a variety of rooms and budget options. They also have hotels in other parts of the country.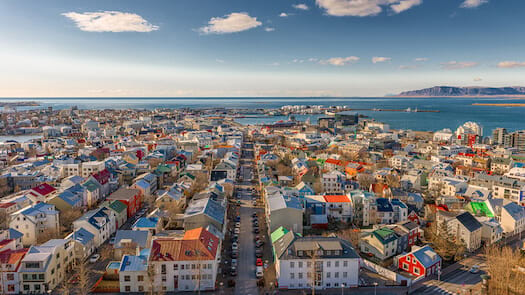 Reykjavik is home to a superb variety of accommodations – from design-led boutique hotels to guesthouses brimming with old-fashioned Icelandic hospitality.
Hostels
These are a really popular option with some travelers and there are a couple right in the center of the city. They offer both flexibility and affordability. Look out for 101 Hostels and Kex – a hostel with a very popular gastropub at its heart. The further out of town you go, the cheaper the hostels become. There are also some options outside of Reykjavik, including HI City Hostel Reykjavik and Bus Hostel Reykjavik that will bring you closer to the Icelandic countryside.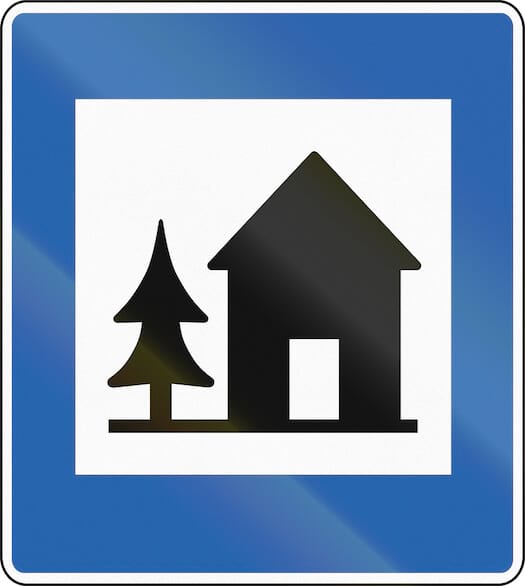 Hostels in Iceland are a cheaper and more flexible option. One hostel in Reykjavik - Kex - even has a gastropub inside!
Guesthouses
For a city, there are plenty of good guesthouses and bed and breakfasts in Reykjavik. This is a great option if you are traveling solo or as a couple / small group. These are more intimate than a hotel but also far cheaper and will certainly get you closer to Icelandic culture and people.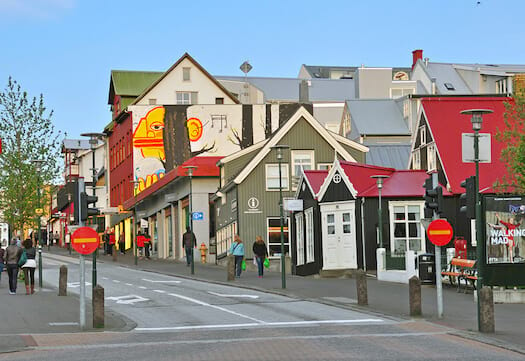 Downtown Reykjavik - Staying in an Icelandic guesthouse will allow you to sample the legendary Icelandic charm and hospitality.
Airbnb
This travel accommodation phenomenon has now landed here in Iceland. Some people swear by it, and Icelanders are the perfect hosts since they are friendly and welcoming whilst still knowing how to give you some space. You'll find options for budget-friendly shared rooms - ideal for meeting other travelers -, private rooms or you can even book the whole apartment!
Apart from the Airbnb option, which you'll find on their website, one of the best places you can go to source details on accommodation providers is the official Iceland tourism website www.inspiredbyiceland.com, or TripAdvisor.
Once you've sorted your accommodation, then get your holiday activities and tours of Iceland organized. Reykjavik is an awesome base to tour the countryside from – and the team at Gray Line Iceland would love to show you around!
Gray Line Iceland is a sightseeing expert here in Iceland. We run all sorts of tours of Iceland, right across the country, such as the Golden Circle Tour; showcasing the magnificent scenery at Þingvellir National Park. Or why not get up close to the iconic Skógafoss waterfall and enjoy stunning views of glacial landscapes and volcanoes?
Come and find out more at grayline. is. We'd love to show you around!