Seeing the Northern Lights near Reykjavik Iceland
For many, the northern lights in Iceland are at the top of the bucket list and we at Gray Line Iceland love nothing more than to make aurora borealis dreams come true. Seeing the northern lights in Iceland means that you are at a high enough altitude in the auroral zone to see them very clearly while surrounded by some of the most stunning nature you've ever seen. You may be asking yourself, what are the northern lights? We've already covered that. But if you're planning your trip and wondering when and how to see the northern lights in Iceland, we've compiled answers to our most frequently asked questions to help you out.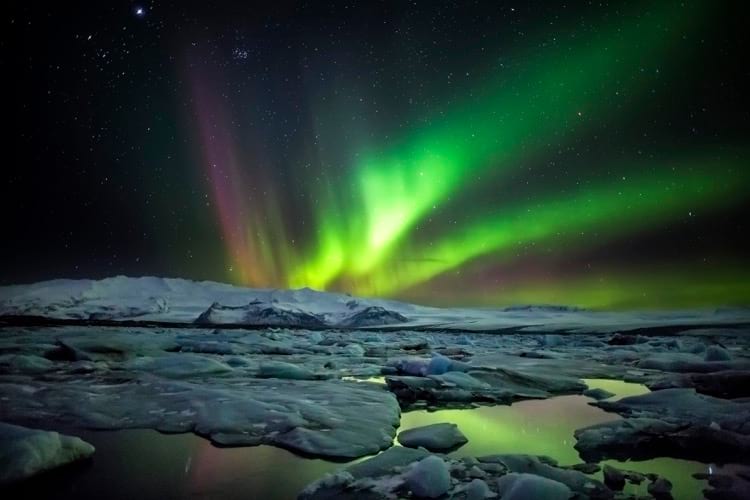 When Is the Best Time of Year To See the Northern Lights In Iceland?
Northern lights require darkness and in Iceland, the adequate darkness begins in mid-August and ends around mid-April, so a visit between those dates is key. The winter season has the most hours of darkness, with the darkest day being December 21. Any day before then gets darker and any day after then gets brighter. And don't plan on traveling to Iceland for northern lights in the summer—from mid-April to mid-August, there is too much sunlight to see the aurora borealis. This is, however, an ideal time of year to see what is known as the midnight sun.

What Are the Conditions Needed to See the Aurora Borealis?
Aside from choosing the right time of year to see the northern lights in Iceland, other elements have to line up to embark on a successful aurora hunt. Optimal northern lights viewing depends on factors such as the aurora forecast, the weather forecast, and light pollution from surrounding city lights. Even the brightness of the moon can affect your chances of seeing the northern lights. Combining the solar wind, solar activity, and cloud coverage, the local aurora forecast is updated regularly and like the weather, can only be known a few days in advance. Measuring on a scale between 0 to 9, anything above a Kp-index of 2 is promising. The ideal conditions are dark and clear skies with a positive aurora forecast. While temperature is not a factor in the likelihood of northern lights, the warmer it is, the more comfortable you are and the longer you will stay outside to admire their beauty. Luck and patience also play a role. Like any other natural phenomenon, it is important to keep in mind that the weather and solar activity can be fickle and there is no controlling these elements.

Where Is the Best Place to View the Northern Lights in Iceland?
While there is no one perfect place, there are several options to choose from on a visit to Iceland. Luckily, the Tour Experts at Gray Line Iceland are very experienced in northern lights tours and know the very best locations across the country, depending on the conditions. If you're in Reykjavík, locations such as the Grótta lighthouse, Öskjuhlíð forest, or Laugardalur Park can sometimes offer just enough shelter from surrounding lights to make them perfect viewing spots in the city, but they are not ideal. Remember, the darker, the better. Getting out of the city and into the countryside increases your chances of a successful northern lights hunt and that can be anywhere from Thingvellir National Park to Snaefellsnes Peninsula, Akureyri to the Westfjords. They can even be viewed from a boat on our Northern Lights Cruise from Reykjavik, a hot spring on our Secret Lagoon and Northern Lights Hunt, or after a day of touring on the Golden Circle Classic and Northern Lights Tour.

Go It Alone or Get Expert Help?
Seeing the northern lights on your own is completely doable and can even happen by coincidence on your walk home after dinner, but your chances of seeing a spectacular show are only increased when you embark on a guided tour in Iceland. Enlisting the help of the Gray Line Tour Experts means that you are not only taken to the right place at the right time for optimal viewing but you are also being transported in the most trusted vehicle to get you there—whether that be a coach bus or a super jeep. It also means that your time is valued and if the conditions aren't optimal or if mother nature doesn't cooperate, you are welcome to join the tour again on another night. Viewing locations are chosen specifically by our operations supervisors, drivers, and guides who call locals in the countryside to verify sky conditions while taking into consideration the nearest rest stops with restrooms and hot beverages. Our dedicated northern lights experts spend their time studying forecasts and scouting locations to ensure you are getting the most out of your trip to Iceland and scratching off that bucket list item with confidence.

How Do I Capture A Great Photo of the Northern Lights?
Of course, you've traveled all this way and you want to be able to relive the memories of the aurora borealis in Iceland but capturing that perfect northern lights photo isn't as easy as you'd think. Whether you are using your phone or a camera, the shutter needs to be open long enough and you need to be still enough to catch the dancing lights above your head. It's not as easy as point, click, enjoy. That's why it is important to plan and consider purchasing a special app for your smartphone, packing a tripod, and reading tips from experts like us at Gray Line Iceland.
Happy hunting!