All about Gullfoss Waterfall
Gullfoss Waterfall is one of Iceland's most famous natural wonders. It's a sight that reinforces the power of nature in our world. If you are planning to visit Iceland and see Gullfoss waterfall, then here's a little more about it:
Gullfoss Waterfall is an iconic natural wonder in Iceland.
It's located in the South of Iceland on the Hvítá River. Langjökull - Iceland's largest glacier, feeds it. The drop is 32 meters – however, the drop happens in two stages into a canyon – once at 11 meters and another at 21 meters.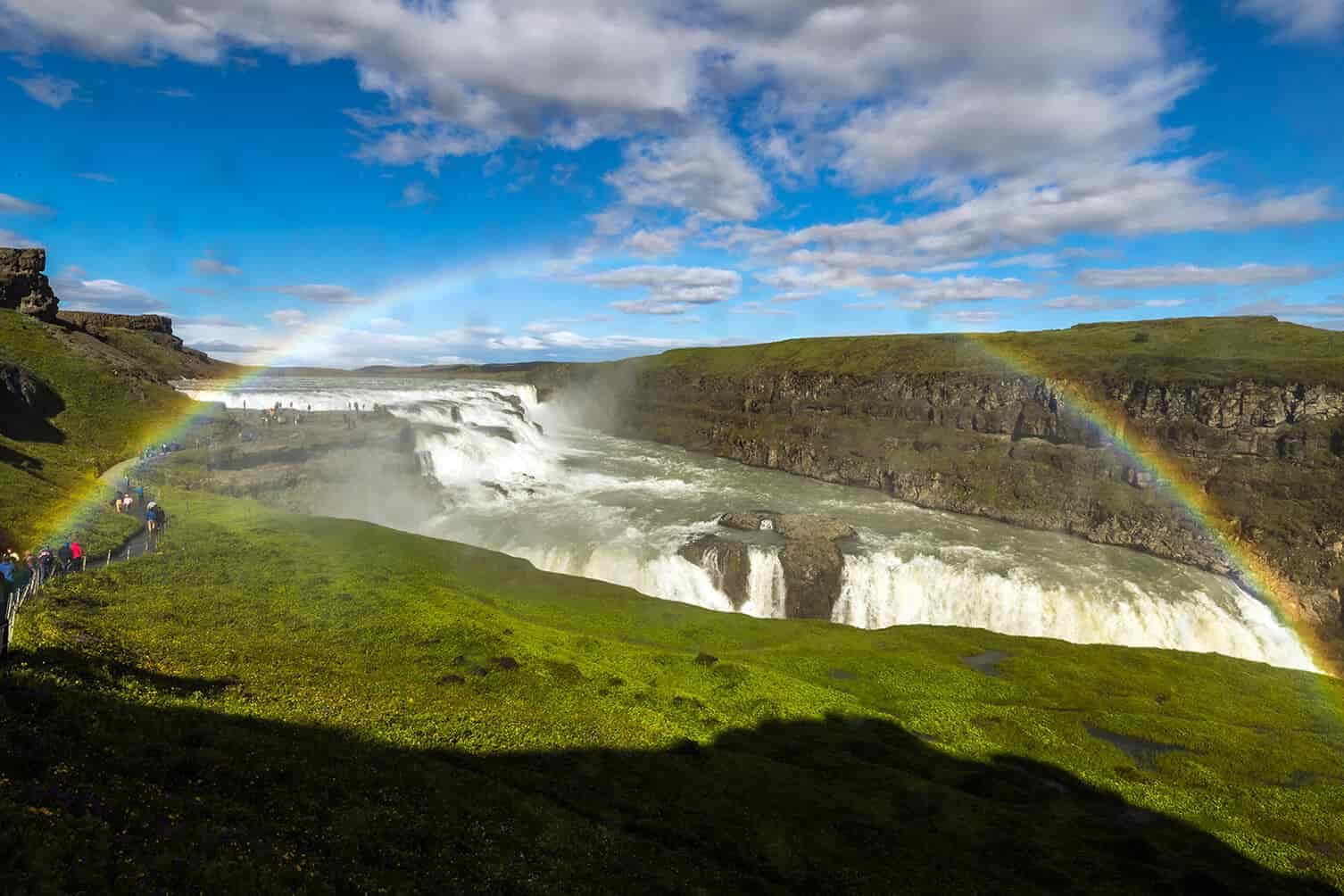 It is quite something to stand and feel the power of the Gullfoss waterfall.
On sunny days, a beautiful rainbow forms over the waterfall.
Gullfoss is a stunning sight to see. It's a reminder of the power of nature, but also of her beauty too. Gullfoss means Golden Falls in English because when the water falls, it looks golden – party thanks to the sediments it carries from the earth and glacial ice.

The beautiful rainbow astride the equally beautiful #Gullfoss

Gullfoss waterfall has its hero - Sigriður Tómasdóttir – who is also known as Iceland's first environmentalist.
There is a story that investors from overseas wanted to harness the power of Gullfoss to generate electricity in the early part of the 20th Century. They made an offer to the owner at the time – a farmer called Tómas Tómasson. He declined but did let the developer lease the waterfall. His daughter later fought to have the contract voided and went to court to defend the waterfall. She walked barefoot to Reykjavik on occasion to the courts to protest. That's a 120km trip! She even threatened to throw herself into the powerful waterfall should any development work take place. Although she lost her case, the developers had not paid their rent so the contract came to an end, and so the story goes that Gullfoss was protected thanks to Sigriður Tómasdóttir.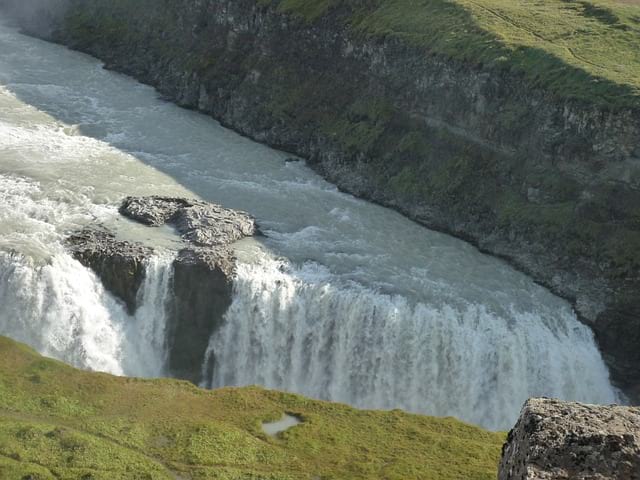 #Gullfoss is the largest falls by volume in Europe – thanks to the rain and the glacier runoff – particularly in summer. It's a great time to visit!
The waterfall is a protected site now and a nature reserve.
Sigriður Tómasdóttir's son inherited the waterfall and he then sold it back to the country. It was declared a nature reserve and is now permanently protected. Thanks to him and his mother, we all have the benefit of enjoying this natural beauty.
Gullfoss waterfall is part of the ever-popular Golden Circle tour.
The Golden Circle Tour is a tour of three of Iceland's most prominent sights – Gullfoss waterfall, Þingvellir National Park, and Geysir geothermal area.
Þingvellir National Park is the most important site in Iceland in terms of history and geology, and Gullfoss and the Geysir hot spring are both stunning reminders of the beauty of nature and the uniqueness of Iceland's natural landscape.
One last thing – be sure to bring your camera – you'll want to capture this beautiful waterfall, for sure.
Let us help you experience Gullfoss Waterfall for yourself:
Gray Line Iceland is the sightseeing expert here in Iceland and we run regular tours of Iceland – all over the country, including to Gullfoss waterfall. Find out more on our website at Grayline.is
We'll pick you up and drop you off from Reykjavik and you'll be in the company of our expert and professional tour guide.
You can also check out what our other guests have said about us via our TripAdvisor page, like our recent guest from Bournemouth, UK: "Picked up from hotel dead on time at 1230 for the 1300 tour. Blessed by fair weather. Stopped at Thingvellar, Gullfoss and Geysir/Strokkur. Back in town for 1930. The pace and timekeeping suited us and the guide and driver were great company. Fabulous scenery and fascinating commentary - thank you, Halli." You can read the review in full here.
Come and visit us soon. The Gray Line Iceland team looks forward to welcoming you.