Travel Guide to Reykjavík
Reykjavík may be a compact capital city, but there's so much to do and see, from exploring museums to roaming beautiful outdoor spaces to visiting charming cafes. And while Reykjavík can seem quite urban with its shops and restaurants, nature is never too far away. These tips will fit perfectly for a city stay and include some excellent attractions you can mix and match to maximise your visit.
How to Get to Reykjavík
All international flights arrive and depart from Keflavik International Airport, about a 45-minute drive from Reykjavík. You can get to the city centre from the airport by taking an Airport Direct coach for approximately EUR 26 each way. A taxi is a more expensive option and can cost upward of EUR 135.
Top Attractions and Activities in Reykjavík
Whale-watching
Just minutes from shore, you can get a glimpse of Iceland's gentle giants on a whale-watching tour. Tours typically last about two hours, and boats depart from Reykjavík's harbour. Some companies boast that tourists have a 95% chance of seeing whales during summer and an 80% chance in winter.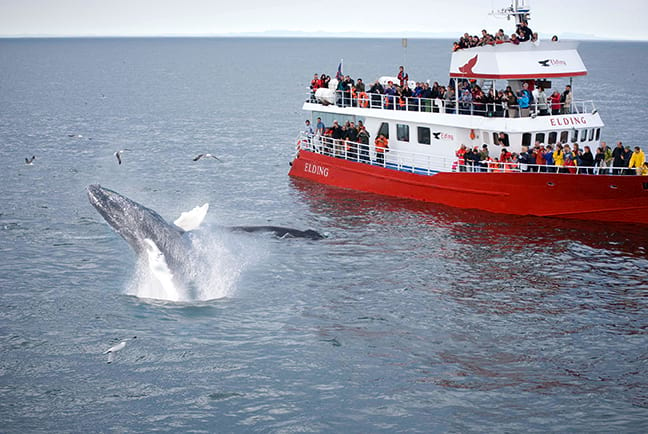 Tjörnin
Tjörnin is a small body of water, rich with birdlife, located next to Reykjavík City Hall. When the weather is nice, a walk around the pond is delightful, about 1.5 kilometres around. Sculptures and benches are scattered along the pond's edge, and birdlife is plentiful, with arctic terns, ducks, and swans. In the winter, the pond freezes, and people walk across it and ice skate when the surface isn't snowy. Tjörnin is one of the most iconic and popular outdoor spaces in the heart of Reykjavík, and it's common to see families with small children feeding the ducks, travellers taking photos, and locals enjoying some time outside.
Sólfarið, the Sun Voyager Sculpture
Sólfarið is an iconic sculpture along the shore of Reykjavík. It was designed by the late artist Jón Gunnar and was installed in 1990. It's a wildly popular place to take photos in all types of weather, but it's lovely on a clear day with mountains in the background. The Sun Voyager is built of stainless steel, and it's said that the artist envisioned an ode to the sun in the form of a dreamboat. But, travellers tend to see it as a Viking ship.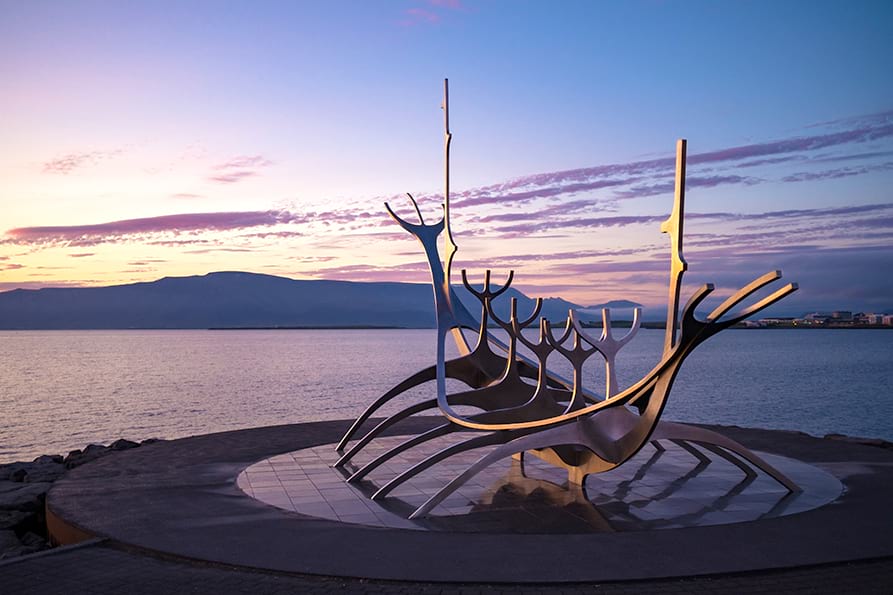 Photo by Yanshu Lee on Unsplash
Harpa
A striking glass structure designed by Icelandic-Danish artist Ólafur Elíasson, Harpa's exterior features individual glass panels that light up during the darkness of winter, sometimes blinking in a pattern or simply changing colours, and the building's waterside location lends itself to lovely reflections. Since opening its doors in 2011, Harpa has been lauded by design organisations and magazines around the world. It's also just a fun place to explore and take pictures of, even if you're not going to attend a concert or conference.
Local Swimming Pools
Swimming is a central part of Icelandic culture, and if you don't visit a pool or two during your stay in Iceland, you're missing out. Each pool has its character and local flavour, and for roughly $8, it's a great way to spend a few leisurely hours. Pools are heated by geothermal energy and are at a comfortable, warm temperature. For a spa-like environment, visit the Sky Lagoon in the Reykjavík suburb of Kópavogur.
Grótta Lighthouse
Northwest of Reykjavík sits Grótta, a lovely lighthouse you can walk to during low tide. Grótta has its charms in any season. In the summer, it's a beautiful place to walk around, watch birds, and sit by the sea. However, Grótta is ideal for spotting the northern lights in favourable conditions on a winter night. There's nothing quite like watching the lights flicker and dance in the sky.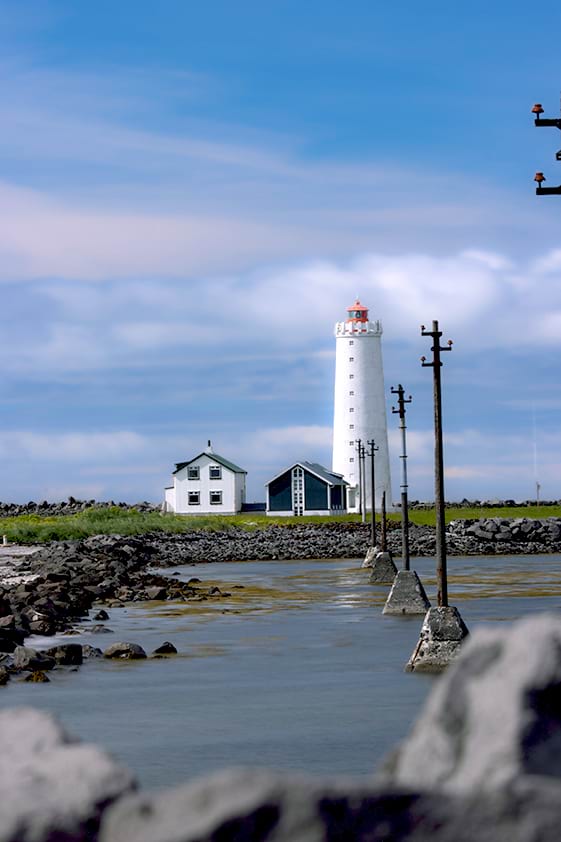 Photo by Ben Mathis Seibel on Unsplash
Explore Local Art
There's never a dull moment in the city's art scene. From established museums to hole-in-the-wall galleries, there's a lot to see. A current favourite among locals is the Nullið art gallery, which holds exhibitions in what used to be the public toilets downtown, and the small space has been transformed to host interesting shows from time to time.
Perlan
Perlan, "the Pearl," is the distinctive, dome-shaped structure in Reykjavík's skyline. It offers one of the best city skyline views from its outdoor viewing platform, where you can walk the perimeter and get a perfect panorama—the interior hosts various exhibitions on ice caves, volcanoes, glaciers, earthquakes and local wildlife.
Þúfa Hill
Near Grandi, there's an interesting structure that's fun to walk on and photograph, Þúfa. Icelandic artist Ólöf Nordal designed the large, grassy dome with a narrow footpath leading to the top.
Mount Esja
Esja looms over Reykjavík and is a favourite among locals and the subject of thousands of photographs snapped by tourists. At nearly 3,000 feet, it's an easy climb with beautiful views on a clear day.
Höfði House
Höfði House is one of Reykjavík's most historically significant buildings and worth a photo or two. Built in 1909, the stately white building was initially used as the French consulate and later served as a sort of guesthouse for famous folks passing through, including Winston Churchill and Queen Elizabeth II. Perhaps its most famous use was as the backdrop for a 1986 meeting between U.S. President Ronald Reagan and the head of the Soviet Union, Mikhail Gorbachev. Today, Höfði is owned by the city of Reykjavík and is used for official receptions and meetings. Although the house is not open to the public, visitors are welcome to explore the exterior of the building.
Getting Around Reykjavík
Reykjavík is the most compact capital city in all of Europe. Its downtown and the Old Harbour are situated in the city's northern half, and the central bus station (BSÍ) for intercity and tour buses is in the south. Most hotels, museums, shops, and restaurants are also in the northern half. The main street in central Reykjavík is Laugavegur, which starts in the east. As you move west, it eventually becomes Bankastræti, which ends as Austurstræti. The streets tend to have long names, and there isn't a grid system in place, but the city is small enough that you won't get too lost.
Tours of Reykjavík
Companies like Gray Line offer day tours of Reykjavík, transporting you to many of the attractions listed above. It's a great way to see Reykjavík if you are short on time and would like the guidance of an expert and driven in a comfortable vehicle. If you prefer to explore on foot, Gray Line Iceland offers a Reykjavik Walking Tour as well. Gray Line also offers a combination tour of Reykjavík sights with visits to the iconic attractions of the Golden Circle—Gullfoss, Geysir, and Þingvellir National Park.
FAQ
How many days do you need to see Reykjavík?
Given that Reykjavík is a small city, it's possible to pack in a lot of sightseeing in one day, but the more days, the better!
Is Reykjavík a walkable city?
Even in the winter, it's a great walking city, and everything is just a stroll away – grocery stores, coffee houses, bars, bookshops, and music venues. If the weather is particularly challenging, the bus (Strætó) is a convenient way to get around.
How far is the Blue Lagoon from Reykjavík?
The Blue Lagoon is on the Reykjanes Peninsula and is close to Keflavik International Airport. It takes approximately 50 minutes to drive from Reykjavík to the Blue Lagoon.