Working to reduce environmental impact
At Gray Line Iceland we recognize the effect our operations and services may have on the environment. As a consequence of this, we are committed to conducting our business in an environmentally responsible manner to reduce the negative impact on the environment.
Consistent monitoring practices of operations allows us to address environmental issues in areas such as saving energy, sorting and reducing the amount of garbage being produced within the company, not wasting water and other resources, reducing air pollution, purchasing rationally, protecting the environment, being mindful of our social responsibility and selecting suppliers according to their performance in environmental issues.

Our policies include:
Training our employees and making our customers aware of our environmental policy and by providing information on how they can participate.
Sorting and reducing garbage that is produced within the company.
Reducing emissions from our company fleet by purchasing vehicles with the highest euro value available at any given point in time.
Promoting sustainable development with reduced use of raw materials, recovery, and re-use.
Choosing suppliers according to their performance in environmental issues, as long as price and quality allow.
Conducting our business according to Icelandic laws and regulations regarding the environment and monitoring changes therein.
Increasing the environmental awareness of our employees through education and training and encouraging employees to perform their duties in an environmentally friendly manner.
Maintaining the best available pollution control when renewing and maintaining equipment.
---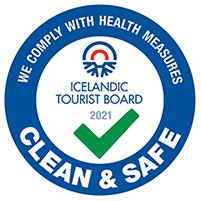 Clean & Safe
Gray Line Iceland participates in the Clean & Safe project that was launched in 2021 by the Icelandic Tourist Board and has been approved by the Health Inspection Authorities in Iceland and World travel and Tourism Council.
Driving continuous improvement
By reviewing our environmental policies on a regular basis, we are able to work towards constantly upgrading and improving our performance.
GET TO KNOW US
We are Your Iceland Tour Expert, dedicated to helping you find the best travel experiences!
Why Book With Gray Line
Book services direct from the source
Book with a brand you know and trust
No hidden fees
Local customer service when you need it
Contact Gray Line Iceland
Address
Klettagarðar 4
104 Reykjavik
Telephone
Email