How to celebrate New Years Eve in Iceland
The sky full of colourful fireworks, warming bonfires, and happiness in the air. Just a little bit of what you can expect from your New Year's Eve in Iceland. There are holiday traditions, you know, and there are holiday traditions that you experience for the first time. Celebrating New Year's Eve in Iceland should be one of them. It is like no other.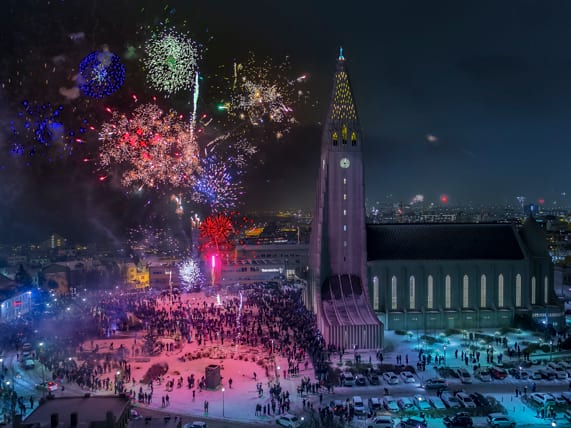 After time well spent, full from eating and relaxing during the Christmas holidays, New Year's Eve is waiting right around the corner. Many people are still enjoying their vacations from work or school, ready to set the year behind them on fire on the evening of December.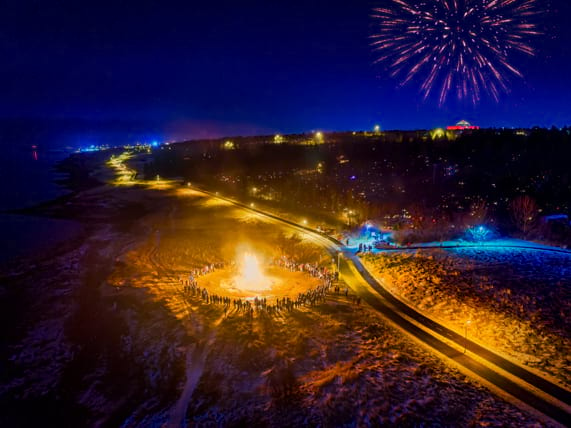 On this last day of the year, most Icelanders have dinner with family, after which they go out to meet with their neighbors and friends, and stand around warming bonfire while singing songs and revel in the festive spirit. The streets are tranquil because the Áramótaskaup show is on TV at 22:30. Áramótaskaup is a comedy show which summarises all of the significant events in Iceland.
After having a good laugh, it is time to go out and watch the incredible fireworks because, honestly, everybody is lighting fireworks. In Iceland, it is the people that run the fireworks show, not the city or town government. Firecrackers and noisemakers became a tradition to scare away any remaining evil spirits and to ensure a brand new start. A song which Icelanders usually sing is a song from 1886 called "Nú árið er liðið" (Now the year has passed). After midnight, Icelanders also like to say small jokes like "ooh, I haven't seen you since last year!", or "I remember last year like it was yesterday":-)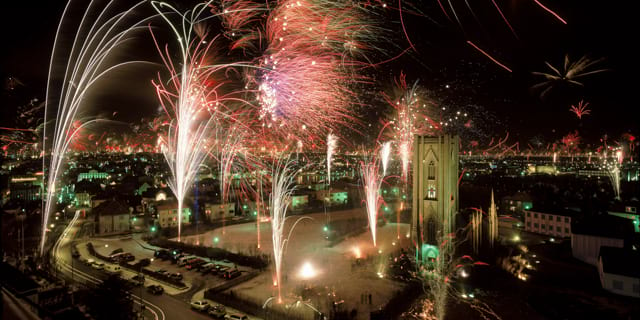 Icelanders love New Year's Eve celebrations, and if you are wondering what the New Year's Eve in Iceland is all about, we have a few options for you to experience it. Do you want to see only the bonfire and enjoy midnight fireworks on your own? In this case, we recommend that you try the Bonfire Tour, where you will join Icelanders, sing, dance and heat a little bit your frozen body with a big smile on your face.
If you are interested in joining in the fun of watching the sky light up as midnight approaches, join the celebration of the Fireworks Tour. Going to a location with the best view of the fireworks while enjoying some bubbly is what you can expect.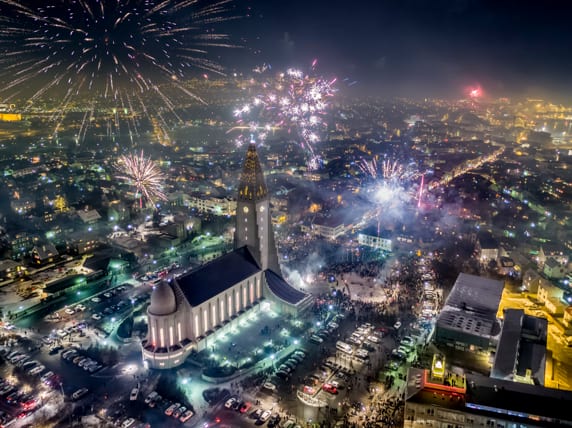 Or go big and enjoy the Bonfire & Fireworks Tour where you can experience both exciting traditions together. During each tour, an experienced and cheerful guide will take you on an adventure, finding the best spot to watch the show and sharing all of the interesting stories about the holiday traditions with you.
It is our wish that you spend your best New Year's Eve celebrations in Iceland or wherever you plan to celebrate it. This night is an unforgettable time of the year, and you will remember it forever.
Gleðilegt nýtt ár! (Happy New Year!)