Learn all about Puffins in Iceland
Who wouldn't know these cute little birds come to Iceland every year in late April staying until late August? Puffins, in Icelandic "Lundi," are a great show for everybody, and summertime is the only time when you can see them in Iceland. There might be a chance that you won't make it this year, but let's introduce puffins to you a little bit more, so you can be looking forward to seeing them in the future :-)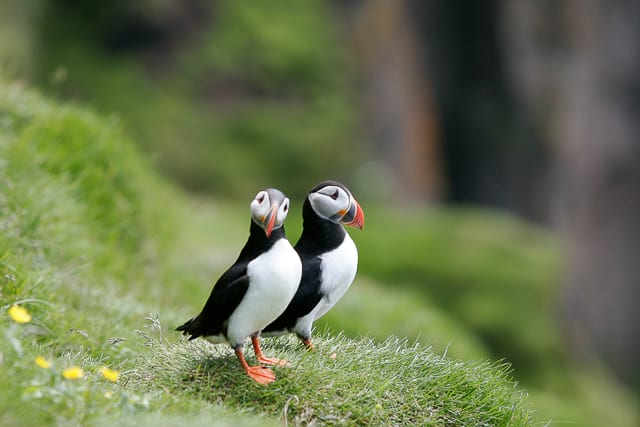 Puffins are small around 25 centimeters long birds with a weight of around 380 grams. The type coming to Iceland every year is called the Atlantic puffin. You can see Atlantic puffins in Iceland, the Faroe Islands, Greenland, Norway, and parts of Ireland and Great Britain. When it comes to breeding, they always breed in colonies on islands and coasts. Their burrows are lined mostly with grass, leaves, and feathers, but you can find them breed where rabbits breed as well. Every year Iceland is home to approximately 10 million puffins. The number of puffins was much higher in the past, but...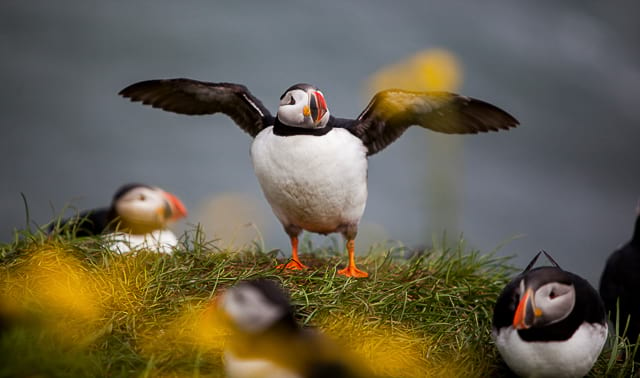 ©Þórður Halldórsson
... Even though they are cute looking, puffins for Icelanders also mean "food." It is common to hunt them in Iceland and Faroe Islands for their meat, feathers, and eggs. Have you seen Gordon's Ramsay show, where he travels to Iceland to learn how to hunt them? But today, there are strict rules for their hunting because, in the past, they almost disappeared. Their raw hearts are an Icelandic specialty. If you would never eat them, do them a favor, and don't even touch them. You would immediately destroy their "waterproof" feathers. Also, don't feed them. Don't forget that they are still wild animals, and can take care of themself by hunting fish.
Puffins are all around Iceland during the summer, so you can be sure that in whatever part of the country you are in, there is no need to travel far. Most of them are settled in Vestmannaeyjar - Westman Islands, 10 kilometers from Iceland's south coast. In the Reykjavík area, puffins are settled on Akurey and Lundey, also known as "Puffins Islands," and summer tours to these cutie birds are a must. Continuing from Reykjavík area to the south, east, north, and west it is Dýrholae, Ingólfshöfði Nature Reserve, Borgarfjörður Eystri, Tjörnes Peninsula, Hornbjarg and Hælavíkurbjarg in the Hornstrandir Nature Reserve, then Breiðafjörður, and as the last place, it is Látrabjarg cliffs.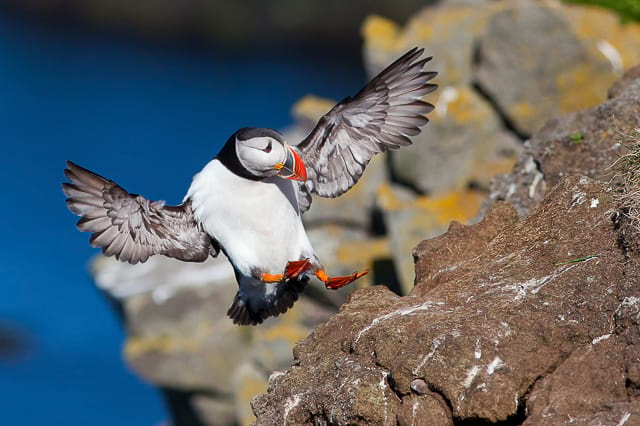 Here are some fun facts about puffins:
- Did you know that puffins can rest on waves when they don't swim?
- As mentioned above, puffins can swim and are great swimmers. They use their webbed feet for swimming 60 meters underwater and catching their favorite yummy fish.
- Puffin's beak is not always orange, as we can see here in Iceland. During the wintertime, the beak's color changes to grey.
- Puffins' nickname is "sea parrots" thanks to their beak shape and color of feathers.
- Puffins can live for many years. The average age of puffin is 20 years!
- Puffins are monogamous. When they once choose their mate, they are staying together forever.
- The average year for the first breed is around 5 years. Puffins lay one egg per year, and both future parents are taking care of it until the baby puffin is not hatched - approximately 40 weeks in total.
- When baby puffins start to fledge, they are leaving their parents for 2-3 years to the open ocean. But then they always return to their colony and stay.
- Puffins wave their wings 400 times a minute and can fly up to 88km/h!
Even though there are millions of them in the world today, oil pollution and human overfishing can cause the current number of Puffins will be decreasing. And so, always respect them as part of nature, but of course, enjoy seeing them by yourself 100%! :-)
Experience Iceland with one of our fabulous tours, see what is Available Now!
Cover by Þórður Halldórsson.