Best restaurants in Iceland
When you visit Iceland, the one thing we can guarantee is that you will eat well. Very well, indeed! It's a food lover's paradise thanks to our locally sourced seafood, meat, and game. So to help you navigate the culinary choices and options – here's a list of some of our favorite restaurants in Iceland.
Grillmarkadurinn
Grillmarkadurinn is located at Nyja Bio in Reykjavik – the building was once an art nouveau cinema. It is known for its superb selection of grilled fish, meat, and game. They work closely with local farmers – and they then cook whatever is in season using fire, smoke, logs, and coal. There are some more daring menu options too – including whale and puffin burgers, minke whale steak, and reindeer burgers.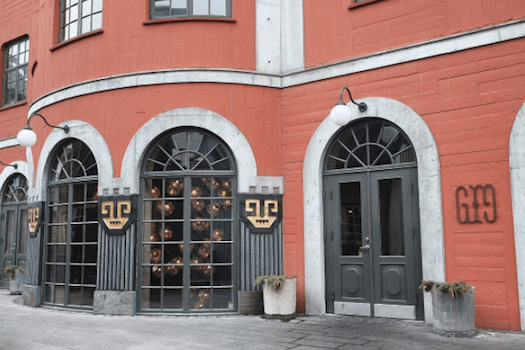 Grillmarkadurinn in Reykjavic (Image source: Instagram)
Baejarins Beztu Pylsur
No list of Iceland's best restaurants would be complete without mention of Baejarins Beztu Pylsur. It is essentially a hot dog stand, located at Reykjavik harbor. It's been here since 1937 serving the famous Icelandic Hot Dog to everyone who joins the line – including US President Bill Clinton. The Icelandic Hot Dogs are legendary as they are made from a unique combination of pork, beef, and lamb.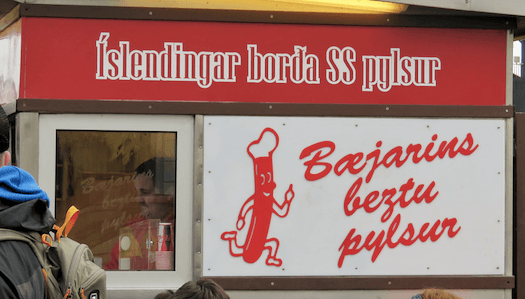 The Baejarins Beztu Pylsur hot dog stand (Image source: Flickr)
Lava
If you are headed to the Blue Lagoon, make sure that you try their restaurant on-site. It's called Lava – appropriately - as it is built into a lava cliff. It offers a modern twist on classic Icelandic dishes, using natural Icelandic ingredients. The food is superb and what's even more compelling is that you can come fresh from the lagoon in your bathrobe and eat some fabulous lunch whilst looking out at an incredible view.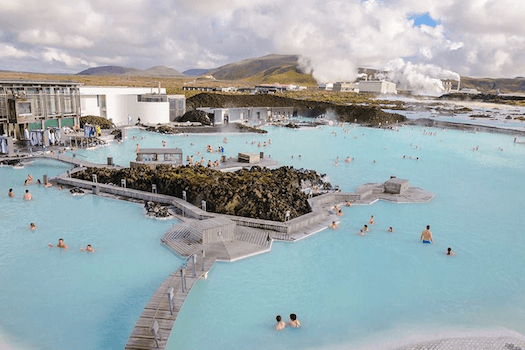 The stunning setting of the BlueLagoon and Lava restaurant (Image source: Gray Line Iceland Facebook)
Dill
If you are keen to delve further into the Nordic food movement, then try Dill. This place is renowned for its use of Icelandic produce and traditions of a time now passed. Such is the owner/chef's commitment to using the materials around him, he's created his liqueur from birch.
Restaurant Hotel Geysir
If you plan to visit the sights on Iceland's Golden Circle tour, then think about heading to this lodge-style restaurant right next to the Great Geysir. Here you can have your bread and eggs cooked using the geothermal heat of the Geysir that lies directly outside the front door.
Kex
This gastropub and hostel are set in an old biscuit factory at Reykjavik harbor – that's where it got its name since Kex is Icelandic for the biscuit. The bar has excellent Icelandic beer on tap, which has been brewed with natural Icelandic ingredients. The menu makes the most of the natural ingredients too – from lamb burgers to fresh salads and seafood fayre.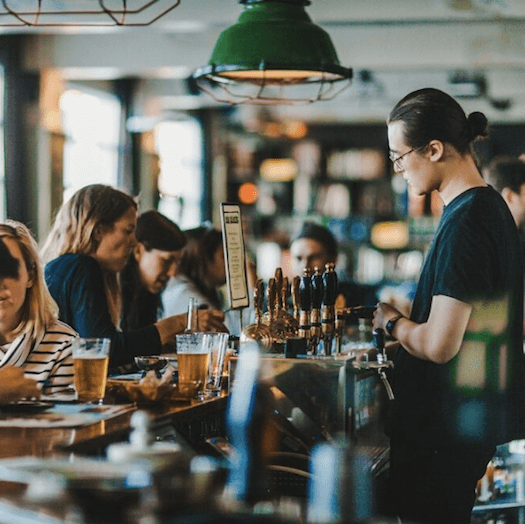 The Kex Gastro pub and Hostel (Image source: Instagram)
Kaloportid Flea Market
In the food section of this flea market, you'll find some traditional Icelandic foods – like the infamous fermented shark meat, which incidentally many Icelanders still believe can cure many diseases. Based at Reykjavik harbor, this food market has a wide variety of culinary options in addition to shark meat – including horse sausage and birch cheese.
Come experience Iceland and its food for yourself!
Gray Line Iceland is a sightseeing expert here in Iceland. We run sightseeing tours all over the country. You can find out more about all of our tours of Iceland on our website at www.grayline.is
We also run food tours of Iceland where we'll take you to visit traditional family farms to taste fresh natural produce. There's also our Golden Circle Food Tour where you can combine a tour of our most famous sights with visiting a local farm.
You can also find out more about us and get more Icelandic travel inspiration on our Facebook, Instagram, and TripAdvisor pages.
Please do get in touch, as we'd love to help you plan your trip to Iceland. The Gray Line Iceland team looks forward to welcoming you.
Bless. Bless.