Christmas in Reykjavik
The city of Reykjavík is all lit up and decked out for the Christmas holiday season making it the perfect time to bask in the Yuletide cheer on a Gray Line Reykjavík City Sightseeing Tour during a holiday in Iceland.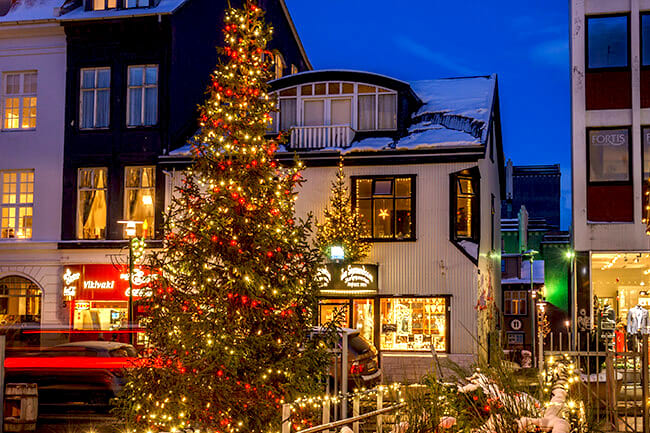 In the middle of winter's dark, the twinkling lights draped along the streets of Reykjavík are a beacon of Christmas warmth and cheer. There are many delights to be enjoyed in the city including the Christmas markets, performances at Harpa concert hall, and a variety of Icelandic Christmas monsters including Grýla, the Yule Lads, and the Yule Cat. The Reykjavík City Sightseeing Tour is a great way to take it all in.

Christmas Tree, Oh Oslo Christmas Tree!
They call it the Oslo Christmas Tree because, since 1951, the large pine was imported as a gift from Oslo, Norway until 2014 when it was decided that the practice of importing the tree was too expensive and not environmentally friendly. Officially lit on the first Sunday of Advent and located in Austurvöllur (Parliament Park) in the city center, the beautifully lit Oslo Christmas tree will fill your heart with all the Christmas feels, and who knows, you might even run into a Yule Lad while you're there.

Make the Yuletide Gay
The Oslo Christmas Tree is not the only Christmas tree in town. The Christmas tree at Hallgrímskirkja (Hallgrimur's Church) is unique in that it's a live tree. That's right; it's a tree growing out of the ground as nature intended and dressed up in lights for the Yuletide season. Come to Hallgrímskirkja for the majestic architecture and stay for the festive atmosphere including choral performances and art exhibits.

Beware Jólakötturinn
'Tis the season of Jólakötturinn or the Yule Cat. This year, the Yule Cat is scaring and charming children and adults alike as a giant, light-covered sculpture in Lækjartorg Square, in the center of downtown Reykjavík. When not posing for a sparkling, festive sculpture, the Yule Cat spends the Christmas season prowling the Icelandic landscape in search of those unfortunate enough to not have gotten any clothes for Christmas. Don't turn your nose up at that ugly Christmas sweater, it may have just saved you from an untimely death in the jaws of the Yule Cat.

We'll Leave the Lights On
The city is all dressed up for Christmas, and Gray Line's Reykjavík City Sightseeing Tour puts you in the middle of it all. Book your Reykjavík City Sightseeing tour now and come to enjoy the enchantment of the holiday season in Iceland.