Woman´s Day Off in Iceland
On October 24th, 1975, women across Iceland went on strike to protest the wage gap between the sexes and demonstrate their value within the Icelandic society and economy. The day became known as Women's Day Off, or Kvennafrídagurinn in Icelandic, and women have continued the legacy by walking out of their jobs or homes at a significant time on October 24 to come together and protest the ongoing gender discrimination that exists in the Icelandic workforce and society in general.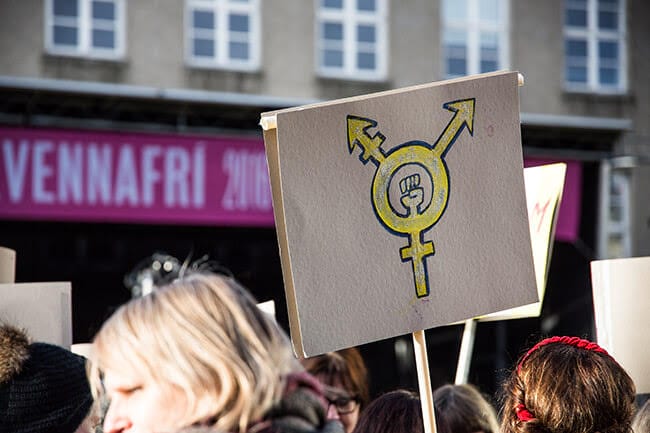 Photographer: Arnþór Birkisson
Women's Day Off
Before 1975, Icelandic women who worked outside of the home earned 60% less than men, while many other women were unable to acquire jobs because child-rearing and housework fell on their shoulders. When the United Nations declared 1975 as the International Women's Year, five major Icelandic women's rights organizations formed a committee that planned events for the year. It was a representative from the women's group, the Redstockings, that put forth the idea of a strike but to make it sound more pleasant and engaging, they called it a "day off." The goal was to "demonstrate the indispensable work of women for Iceland's economy and society" and to "protest wage discrepancy and unfair employment practices."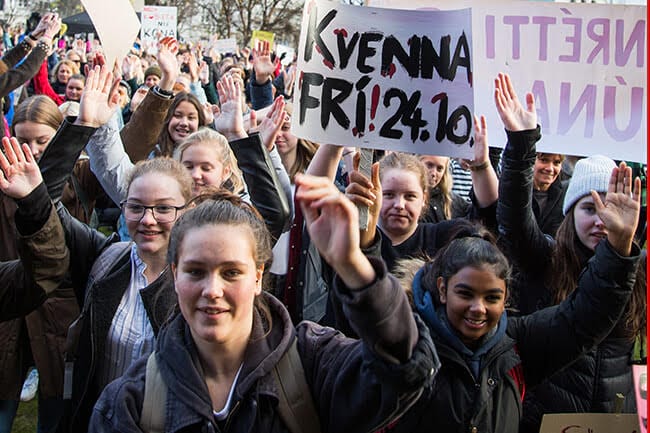 Photographer: Arnþór Birkisson
Word Spread Like Wildfire
Organizers used word of mouth, television, radio, and newspapers to raise awareness, and ninety percent of women took part, including those in some of the most remote parts of Iceland. As a result, many industries were forced to shut down for the day. Flights were canceled, the telephone service was shut down, newspapers were not printed, schools closed, bank executives had to work as tellers to keep the banks open, and men had to bring their children to work. Twenty-five thousand women out of the population of two hundred twenty thousand people came together for a rally in the city center where they listened to speakers, sang, and discussed what could be done to achieve gender equality in Iceland.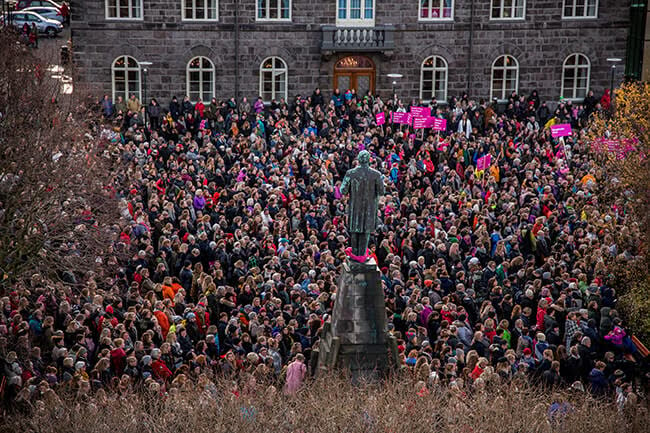 Photographer: Arnþór Birkisson
Join the Rally
The women achieved their goal, but the battle was far from over. Significant progress has been made over the last 52 years, and Iceland has ranked first in the Global Gender Gap Report nine times. According to the most recent report from Statistics Iceland, women in Iceland are on average paid 26% less than their male colleagues meaning they are only being paid for the first five hours and 55 minutes of an eight-hour workday. Women will, therefore, be walking out of their jobs and homes at 14:55 on October 24, 2018, to continue to demand equality. All are welcome to participate in the solidarity event taking place at Arnarhóll in the city center of Reykjavík at 15:30 on October 24, 2018.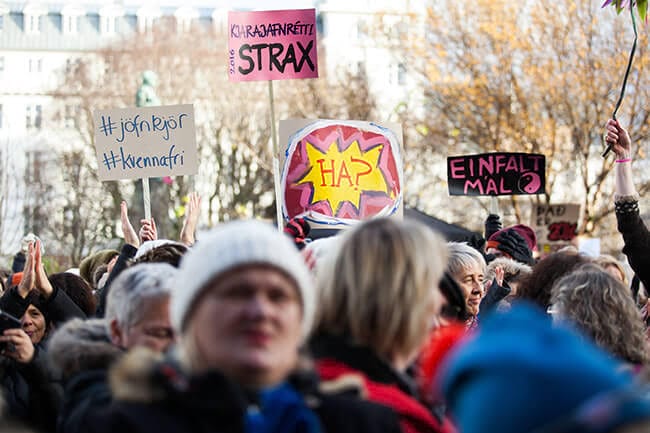 Photographer: Arnþór Birkisson