Icelands Christmas Beers
That significant time of the year, when Icelanders merrily walk into their local liquor store Vínbúðin to buy freshly released Christmas beers, is here. Christmas beers are popular among all adult populations, and we haven´t been surprised that this year, 31 different types and flavors of Christmas beers have been released in Iceland so far. We picked ten of them and together with Hjörvar Óli Sigurðsson, Icelander´s first certified Cicerone, we rated them for you.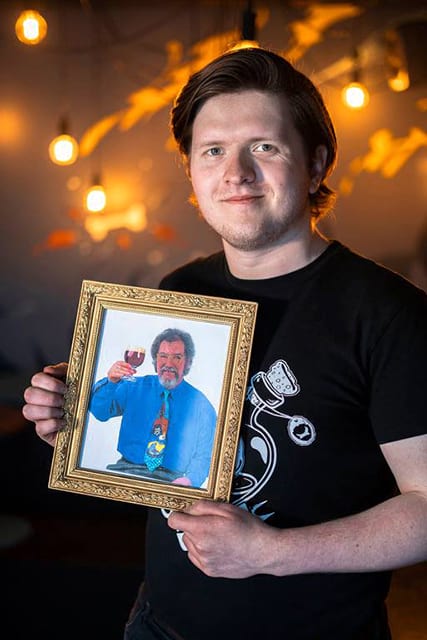 Before we start, Hjörvar answered three questions that might be on your minds:
S: What is the unique thing which makes the beer a Christmas beer?
H: Christmas beers generally have a higher alcohol strength and feature dark malts and spices, giving them a dark color. Typical flavors are raisins, figs, plums, apples, cinnamon, caramel, nuts, coffee, chocolate, and molasses, as well as a warming character that is very welcome during the Christmas and winter season. However, some breweries choose to brew a summery beer in the middle of winter, a kind of trip to warmer climates for the senses. But if the producer calls it a Christmas beer, that's what it is, even if it doesn't taste like Yule in a glass.
S: When did come the trend with Christmas beer in Iceland?
H: Icelandic Christmas beer has been produced every year since 1990 when Víking brewery in Akureyri released their "Jóla Brugg", one year after the beer was made legal in Iceland. Every new Icelandic brewery to come out since then has created an exclusive Christmas beer. The tradition is influenced by the long history of Christmas ales in the Scandinavian countries.
S: How long can people find Christmas beers at a liquor store?
H: While most restaurants and bars start offering Christmas beers around the beginning of November, the state liquor store Vínbúðin waits until the third Thursday of November to kick off the festivities, which this year was November 14th. Leftovers from last year's Christmas beer disappeared from shelves in February, but there is no official date for the end of seasonal beer sales.
As Hjörvar says, when it comes to beer taste, you are focusing on five aspects - appearance, aroma, flavor, body and texture, and aftertaste. Tasting can take some time, and even when we picked only ten beers from 31, it took us almost four hours to go over them. We rated the beers on a 10-point scale, making sure to judge beers by style. "It annoys me to see delicate, well-constructed beers get a lower score than brash, off-balance beers, just because they feature huge flavors", Hjörvar says.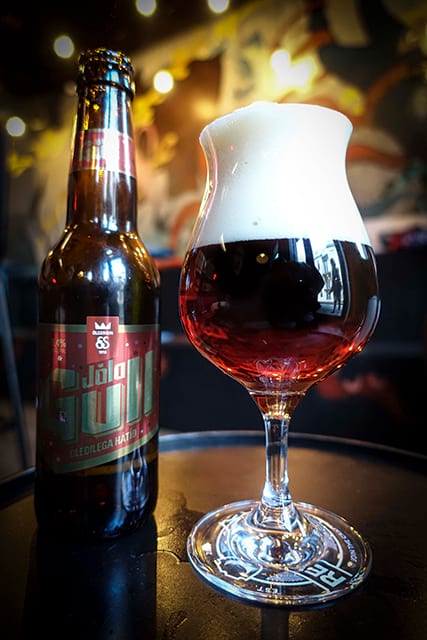 1. Jóla Gull 5,4%, International Amber lager, 8/10 points.
First Christmas beer is an old classic on the market, coming from a big brewery. Christmas "Jóla Gull" is a ruby-colored, clear beer with an off-white head. It has warming aromas of clean caramel, and a caramel-nutty flavor and it is a crisp lager with a long, a little bit metallic edge and burned sugar aftertaste. Despite this, Jóla Gull is a beer with smooth drinkability.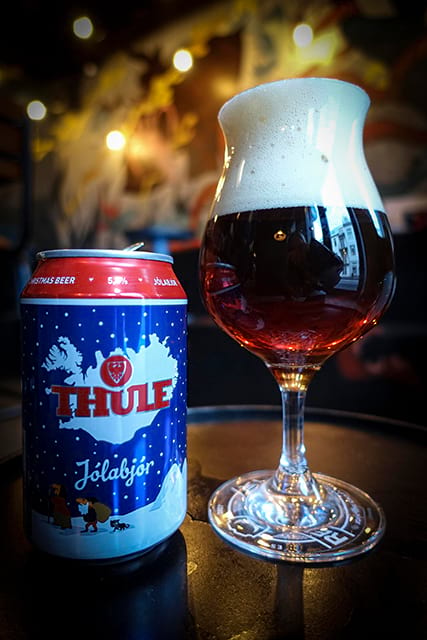 2. Thule Jólabjór 5,4%, Amber lager, 5/10 points.
This Christmas beer also comes from a big Icelandic brewery, Viking in Akureyri. On the other side, our taste buds were not so pleased with this offering, compare with the rest of the beers we tasted. Thule Jólabjór has a dry, rather dull, and muted take on the caramel-tinged classic Scandinavian Christmas lagers with metallic notes throughout and stunted drinkability. Although the packaging is undeniably charming, featuring Yuletide icons Grýla, Leppalúði, and the Christmas Cat, folksy artwork does not a good beer make.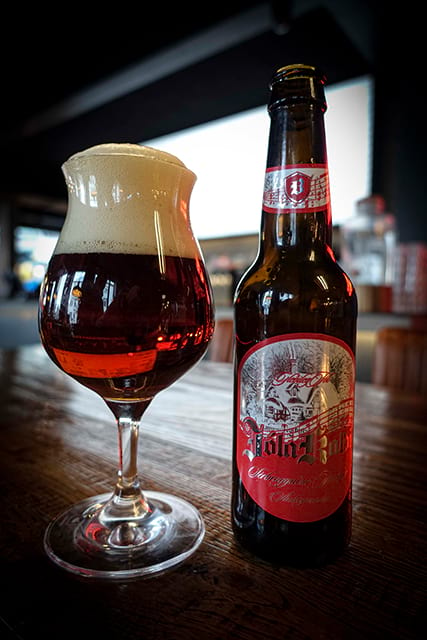 3. Jóla Kaldi 5,4%, Czech umber lager, 8/10 points.
Another north Icelandic beer, Jóla Kaldi is a traditional beer and full-flavored, Czech-style interpretation of the Christmas lager. It is a slightly darker beer than usual Christmas beers and very clear. Its aroma is a delicate mix of bready malt and grassy Czech hops, with bread crust, toffee, and walnut notes on the palate. The clean, dry finish lets the hops and caramel malt mingle peacefully for a good while.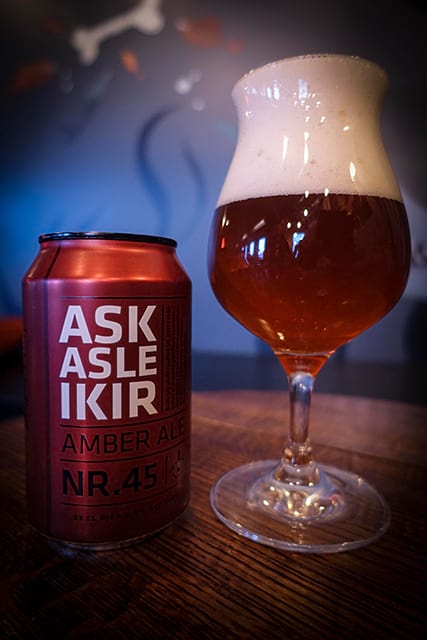 4. Askasleikir 5,8%, American Amber ale, 7,5/10 points.
Askasleikir is one of 13 Icelandic Yule Lads, and even though he is known as a cheeky food thief, this beer won´t steal anything from you. Askasleikir rewards all the senses, with a honey-ish amber color, slight haze, and off-white head. A typical scent of American hops, marked by grapefruit and pine jumped right out of the can on the table when we opened it. A wave of bitter hops, bubble gum, and fruit-forward flavors greets you on the first taste, supported by tight carbonation and a medium-light body. This beer is suitable for those who enjoy the intense citrus flavor of their Christmas beer.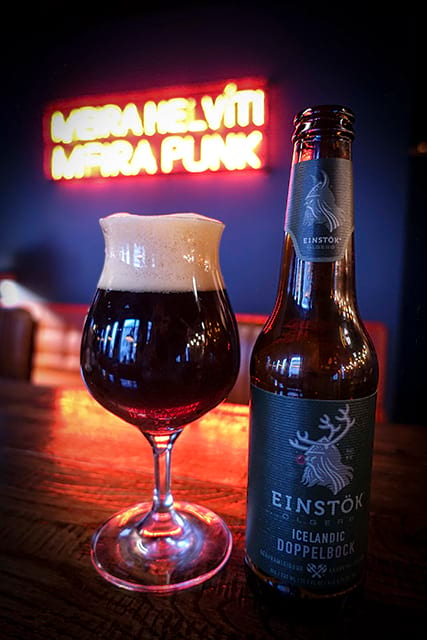 5. Einstök Doppelbock 6,7%, German amber 8,5/10 points.
This beer is hands-down the most Christmassy beer of all the ones we tasted. With a beguiling, near-black appearance offset by red highlights, this is the darkest of all lagers, with a beautiful full body to match. On both the first sniff and first taste, Einstök Doppelbock has a rich symphony of dry winter fruit flavors, followed by a deceptively clean finish that almost makes you forget that it's nearly 7% ABV.
6. Segull 67 Jóla Bjór 5,4%, Brown Ale, 7/10 points.
Coming from a small brewery in Siglufjörður up in the north of Iceland, Seagull 67 Jóla Bjór is one of the "new kids" in the market. Mahogany color, slight haze with an off-white cap of foam. The aroma of walnut, chestnut, and, curiously, a faint yogurt character. The flavour is sweet up front, with a light body, rather gentle nuttiness, and a dry finish, making this a very drinkable, unintrusive brown ale, more suitable for long drinking sessions with friends than for quiet contemplation by the fireside. We think this beer would do very well in a half-liter format.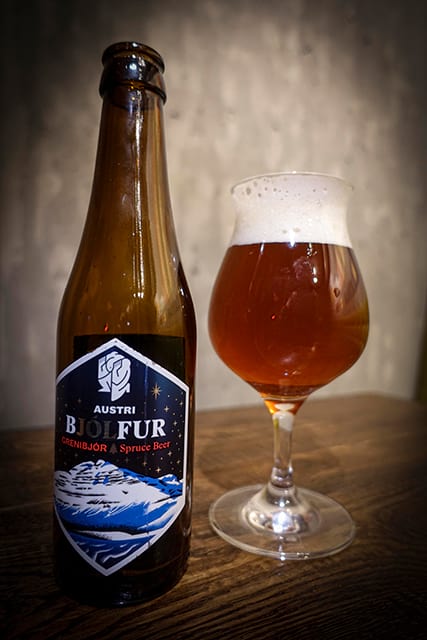 7. Bjólfur 4,6%, 7,5/10 points
Bjólfur Christmas beer comes from Austri Brewery situated in Egilsstaðir. Austri Brewery named all its beers after Icelandic mountains, and this beer is no exception. Bjólfur might seem inconspicuous, a pale-amber ale topped with a white head that's gone as soon as it arrived. On closer inspection, it reveals a truly unique fragrance. It must be the spruce. On the first sip, the slight sweetness of toffee-ish malt dries out to reveal an interesting note. Is that the hops or the spruce? Is this beer hopped at all? On the dry finish, the unmistakable piney spruce character sticks out. To drink Bjólfur is a great way of bringing Christmas into the beer, a subtle beer that still manages to set itself apart.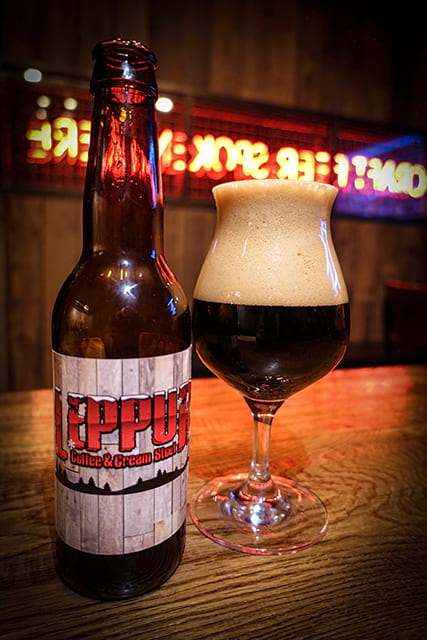 8. Leppur 6,5%, Coffee and Cream Stout, 8,5/10 points
Leppur comes from The Brothers Brewery located in the Vestmannaeyjar archipelago off the south coast of Iceland. As the label implies, the beer has a strong aroma of coffee beans with a complex coffee taste interacting with sweetness, kind of like eating coffee beans dipped in yogurt. Leppur has a fittingly creamy body with sharp, dry, coffee notes in the finish. It is a very Christmassy beer to try, although if you are lactose intolerant, you'll sadly have to sit this one out.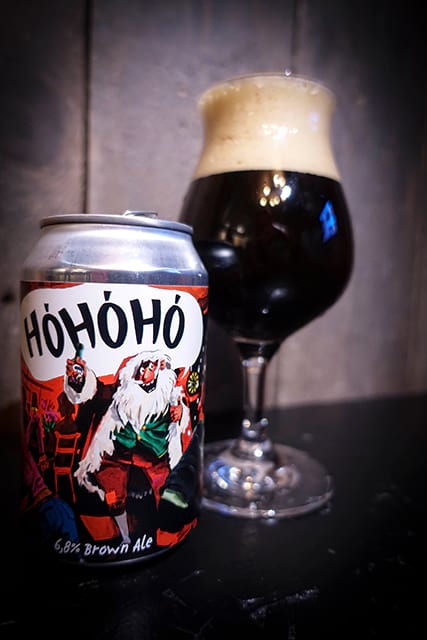 9. Hó Hó Hó 6,8%, Brown Ale, 7,5/10 points
Hó Hó Hó Christmas beer is decidedly beefy Brown Ale coming from Reykjavík brewery The deep brown, nearly black color, with a tan head, gives you a hint of what is in store. Dried oranges and brown sugar present themselves on the nose, with similar flavors on the palate, accompanied by roast, coffee notes. With a hoppy, bitter aftertaste, a firm warming sensation, and a confident 6.8% ABV, Hó Hó Hó bridges the gap between Brown ale and Stout, making it at once a brisk, drinkable ale, and a good companion during the shortest days of winter.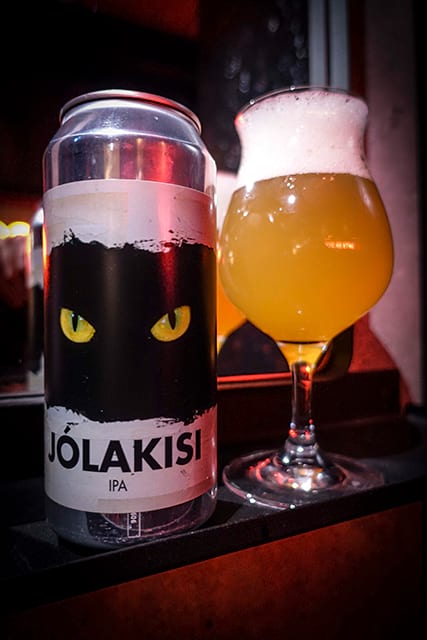 10. Jólakisi IPA 7%, New England IPA, 7,5/10 points
Jólakisi (Christmas cat) is one of Reykjavík brewery Malbygg's holiday beers and the strongest of all the ones we tasted. This beer, as is typical of New England-style IPAs, opens up with a strong aroma of vibrant tropical hops. We discover mango, passionfruit, pineapple, and peaches with each probing sniff. Echoed to these notes are in the appearance, a deeply hazy yellow, looking more like fruit juice than beer, another hallmark of the style. The passionfruit note is more apparent on first taste, with the other fruit becoming more restrained as a light, yet sharp bitterness takes over. Jólakisi is an ideal beer for those who scoff at conventions of seasonal drinking and prefer to enjoy the taste of warmer months, year-round.
Skál (Cheers)!