All about ice caves in Iceland
A visit to Iceland is like taking a trip into Mother Nature's soul. Natural beauty abounds – and there are few things more mesmerizing or closer to nature than a visit to one of our amazing ice caves. Here's a taster of Iceland's ice caves:
1. Ice caves are extraordinarily beautiful.
Getting to see them is like seeing nature's work, frozen in time. Once there, you're reminded of the power of nature and that we live on an amazing planet.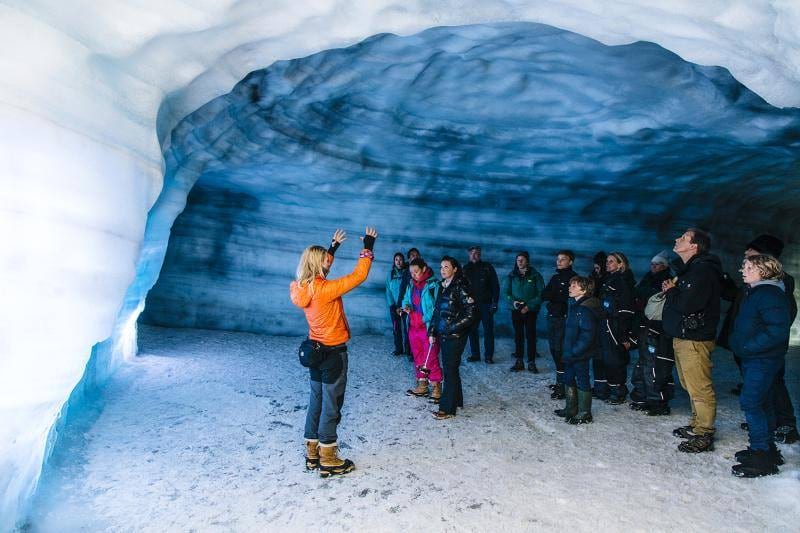 Nature's beautiful blue ice inside an ice cave. #GrayLineIceland #FindAReasonToGo #Glaciers #Icecaves #Iceland
2. Ice caves are natural phenomena that are formed in glaciers during winter.
They are usually formed by water running through the glacier. New caves can be created each Fall and Winter.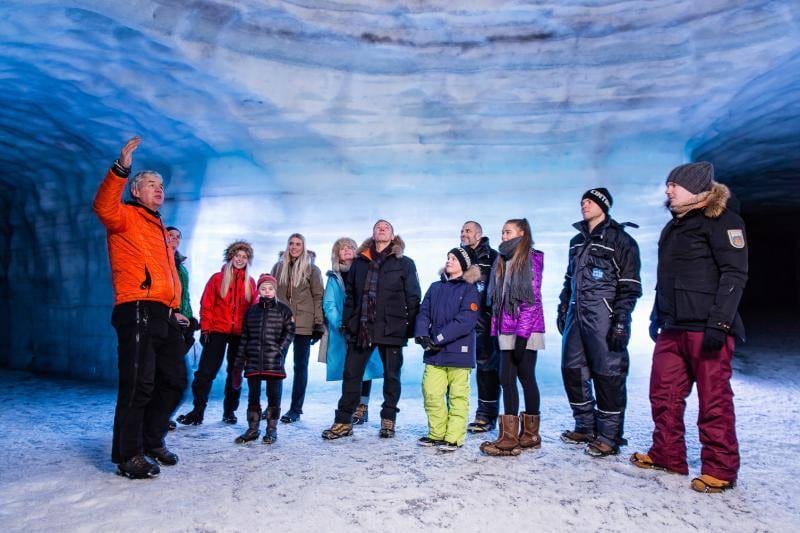 An adventure deep inside an ice cave – this one is man-made, but oh so impressive. #FindAReasonToGo #Glaciers #Icecaves #Iceland
3. You need to book ahead as trips to Ice Caves are very, very popular.
Iceland's ice caves are rare phenomena. Although new caves form each year, the season only runs in winter – from November until March. So, it's best to book a guided tour in advance.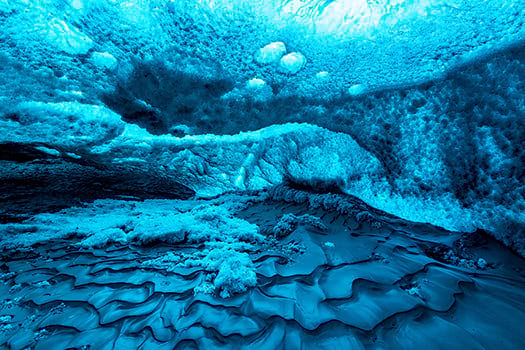 Ice cave at Vatnajokull Glacier, Iceland. #FindAReasonToGo #Glaciers #Icecaves #Iceland
4. Visiting an ice cave ALWAYS needs to be done with an expert guide.
Caves form each year and their structure and conditions can vary greatly. So, you must always only visit with an expert. Also, you can only go into caves in winter – outside of these times, caves can be even more unpredictable.
This rule also applies to exploring glaciers – they too can be unpredictable with crevasses and changing conditions, so if you plan to explore, do so only with an experienced guide.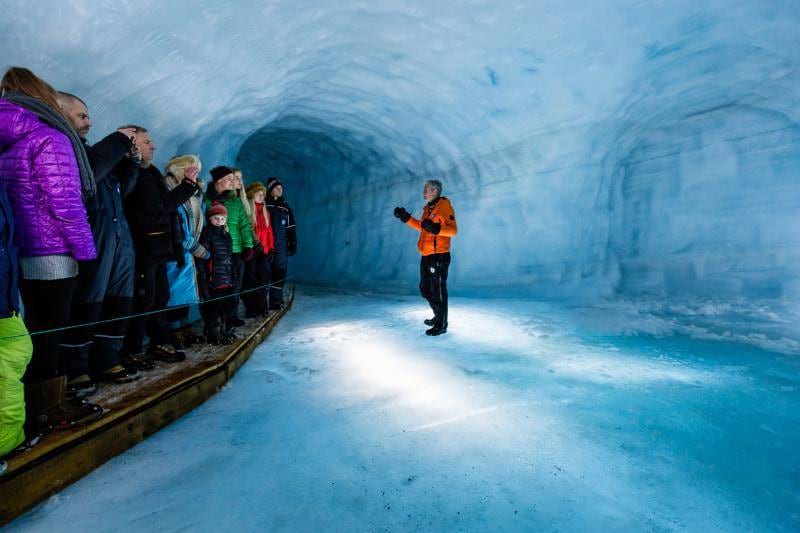 A trip to the Ice Cave at Langjökull Glacier is a trip of a lifetime. #FindAReasonToGo #Glaciers #Icecaves #Iceland
5. There is a man-made ice cave at Langjökull Glacier - one of the largest glaciers in the world.
The ice cave at Langjökull Glacier is also the largest man-made ice structure in the world. By visiting the ice cave you will be able to follow the formation of the glacier through time. It's fascinating. Again – this can only be visited as part of a guided tour.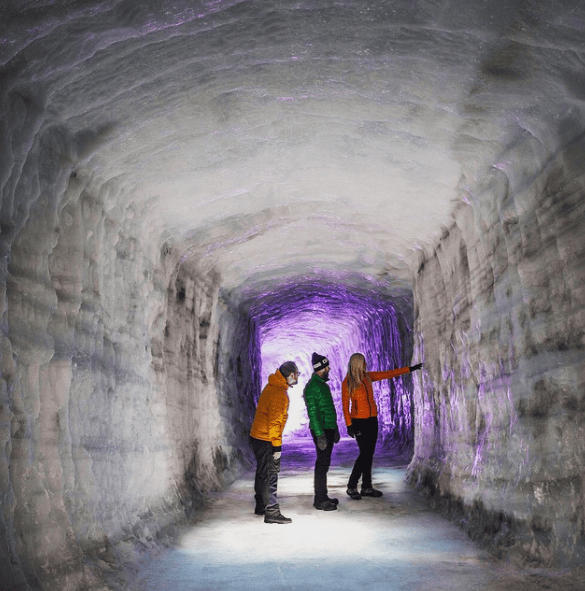 Ice Cave at Langjökull glacier #FindAReasonToGo #Glaciers #Icecaves #Iceland
6. You will need to wrap up warm for your trip to an ice cave.
It will be cold. You'll be walking on icy terrain, so you do need warm socks, jackets, hats, gloves, and good boots.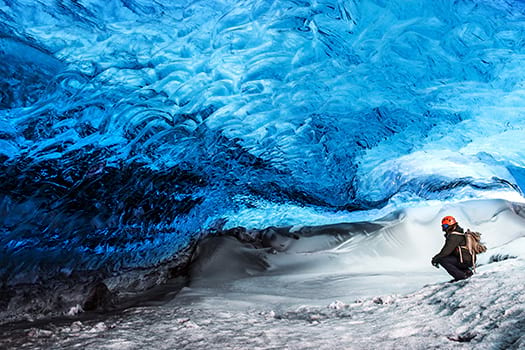 Wrap up warm for your Ice Cave adventure. Image of ice cave at Skaftafell glacier #GrayLineIceland #FindAReasonToGo #IcelandicNature
So – that's a taster of what you can expect from the amazing Ice Caves of Iceland, and here's what those who visited recently thought of the experience:
"We had an amazing trip inside the Langjökull glacier. We had a small group of 5 that joined a group of 30 or so that went on the snow truck and then into the glacier with a specialist guide. Our guide was a performer who sang a beautiful Icelandic folk tune in one ice cave. A magical experience that made our holiday." LindyWills, the UK visited the Langjökull glacier with Gray Line Iceland. You can read the review in full, via Gray Line Iceland's page on TripAdvisor
How Gray Line Iceland can help you explore the Ice Caves.
If you are planning to visit Iceland, then talk to our team at Gray Line Iceland – our passion is helping you discover our country. We offer Icelandic tours, vacation packages as well as travel transfers.
When it comes to visiting the ice caves, we run a Langjökull Ice Cave Tour taking you right inside our biggest ice cave. You can also visit the same ice cave as part of our two-day West Coast Ice Cave and Lava Cave tour during which you'll also witness dramatic waterfalls and volcanoes as you travel our western coast.
Check us out at Grayline.is or find out what our previous guests thought about us over at our TripAdvisor or Facebook pages.
The Gray Line Iceland team looks forward to hopefully meeting you soon – perhaps in an ice cave?
Bless. Bless.
The Gray Line Iceland Team