Amongst them is Dettifoss Waterfall in Northern Iceland. Here are some fascinating facts to demonstrate just how extraordinary this particular precipice is.
Dettifoss Waterfall is located in Vatnajökull National Park.
Vatnajökull National Park is situated in North East Iceland. It's one of four national parks in Iceland, and it covers around 14% of Iceland's land.
Dettifoss is the most powerful waterfall in Europe.
Dettifoss Waterfall is the most powerful in Europe. The way one works out how 'powerful' a waterfall might be is to measure water flow times fall distance. Dettifoss water flow is 193 m3/s and has a drop of 44 meters. That's 96,500 gallons flowing over the falls every second!
It is 'powered' by the Vatnajökull glacier.
This glacier is the largest and most voluminous glacier in Iceland and the largest ice cap in Europe by volume. The meltwater from this glacier is partly what makes Dettifoss so powerful.
The raw power of Dettifoss Waterfall Iceland
Some people refer to Dettifoss Waterfall as 'The Beast'!
This name comes from its comparison to Goðafoss waterfall, which is seen as 'the Beauty'. Dettifoss is a marvel to see, however, and it sits in one of the most beautiful parts of the country that we just love to walk in and explore. Stunning.
You can see the spray it creates from several miles away.
This volume of water crashing down 44 meters creates quite a lot of mist, so it is easy to spot the location of Dettifoss from miles away
It's starred in a movie.
Dettifoss waterfall was featured in the opening scenes of the Alien prequel from 2012, named Prometheus.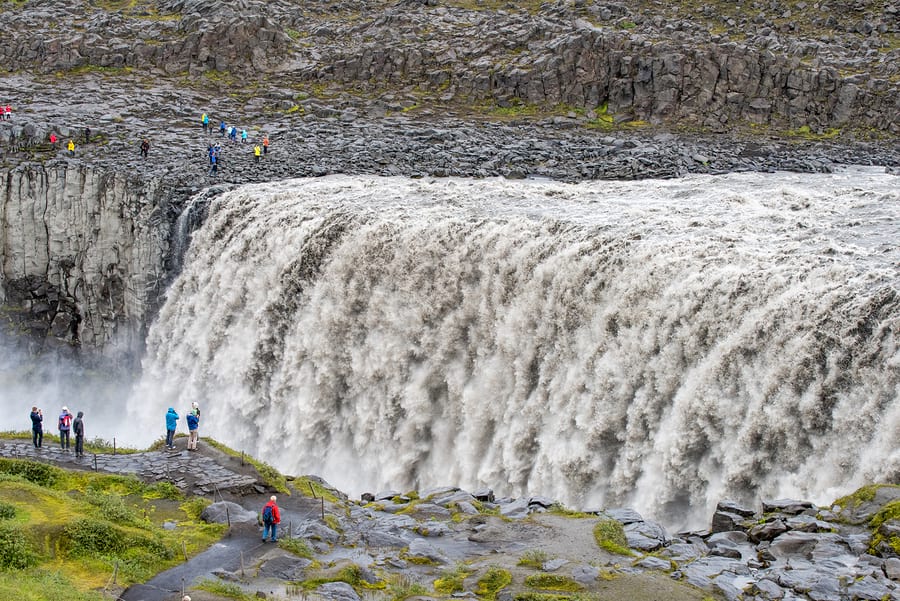 Dettifoss, the most powerful waterfall in Europe
Come see Dettifoss waterfall for yourself.
Gray Line Iceland - the sightseeing expert in Iceland – can take you directly to Dettifoss Waterfall on our Dettifoss Grand Tour. On the way, you'll see all of the other beautiful sights in the north of Iceland including, Lake Mývatn, crater Krafla, Ásbyrgi, and the fishing village of Húsavík.
Full details of this trip and all of our tours of Iceland are available on our website at grayline.is
Why tour Iceland with Gray Line Iceland?
In the words of our guests, we are a 'Top Notch Tour Company:
"My daughter and I took two full-day tours and two transfers. Both tours were led by knowledgeable guides and were well thought out, with sufficient time at each stop to explore and enjoy the setting and yet be able to stay on a reasonable schedule. We were lucky with the weather on both days, which helps, but these were truly magical tours. Both of the transfers were easy and inexpensive. We highly recommend Gray Line." You can read more about what our guests thought about us on our TripAdvisor or Facebook pages.