Tour Itinerary
The Golden Circle is by far our most popular day trip, and for a good reason! It's packed with arguably the country's most important sites and guided by some of our finest tour experts with extensive knowledge and experience of Iceland's most revered sites.
A HARROWING HISTORY & FABULOUS FALLS
Our first stop is Þingvellir, the mainland's only UNESCO World Heritage Site. This is not only where the tectonic plates are pulling apart, creating a rift valley, but also the birthplace of the Althing, the world's longest-running democratic parliament since 930 AD. Here we'll learn the chilling stories behind Drowning Pool, Gallows Rock, Burning Gorge, and Sand Banks of Slaughter. Deep in the interior, we'll find Gullfoss as it cascades into narrow Hvítárgljúfur canyon. The geology of the massive falls means it's nearly impossible to photograph thoroughly—you have to see it with your own eyes.
BUBBLING WITH EXCITEMENT
At Geysir geothermal area, we'll see a geyser hurling boiling water up to 30 meters in the air every 3-7 minutes, so you're sure to catch the thrilling moment. The entire area is alive with geothermal activity, including bubbling mud pots, steam vents, and Geysir, the namesake of all geysers.
STORIES OF A LIFETIME
While anyone of these stops makes incredible fodder for your Instagram feed, they also all have rich histories and fascinating tales, each told with their nuances by our brilliant storyteller guides. It's not just facts and figures that bring these places to life, but the compelling stories our guides have collected over time. Don't just see the sites—experience Iceland through the eyes of a tour expert with Gray Line.
BLUE LAGOON
The Blue Lagoon is one of Iceland's most popular tourist attractions and by many considered an intrinsic part of the whole Iceland experience. Breathtaking scenery, ultra-modern facilities, and an impressive track record in healing are why the Blue Lagoon draws visitors from all corners of the world to return time and time.
GEOTHERMAL SEAWATER
Not only does the lagoon owe its existence to geothermal activity, but the entire facility—from the shower rooms to the café lights—is powered by geothermal energy. Ocean water seeps through the porous lava rock and combines with hot groundwater to create the distinctive mineral-rich water and silica mud found in the Blue Lagoon.
INSIDER TIPS
Two things to tell yourself while at the Blue Lagoon: yes to conditioner and no to jewelry. The water in the Blue Lagoon can be hard on your hair, so be sure to use plenty of leave-in conditioners both before and after you take a dip (there is plenty of complimentary conditioners available in the shower rooms). As for your jewelry, best to leave it in the locker as the minerals in the water can cause discoloration, and it is hard to find any pieces that are lost.
SOAK, RELAX, SIP, REPEAT
The key to fully enjoying your Blue Lagoon experience is to pace yourself. Of course, you will want to soak in the warm waters of the lagoon as soon as that cool Icelandic air hits your freshly showered skin, but after you've warmed up, check out the sauna and steam rooms. There is also an area just for relaxing—the aptly named, Relaxation Area. Drink a smoothie at the Lagoon Bar, and if you are looking for warmer waters, then search out the areas of the lagoon with the most steam. After a soak in the warmer waters, you'll probably be ready for a face mask and that floating massage, perhaps followed by a water massage courtesy of the waterfall. All of this relaxation may leave you a bit hungry. The Blue Lagoon has plenty to offer by way of dining, no matter your tastes.
CARRY ON
At the Blue Lagoon, the experiences of an Icelandic swimming pool, spa, and geothermal energy meet to create an experience you won't find anywhere else. With so much to see and do in Iceland, why not take a moment of relaxation in the singularly Icelandic space of the Blue Lagoon? Gray Line will help you get there and back again in time for your next adventure.
---
Frequently Asked Questions
1. Where is the Golden Circle?
The Golden Circle is in southwest Iceland, just outside of the city of Reykjavik. The nearest site Thingvellir National Park is only 43 minutes (47.4 km/29.4 miles) away from Reykjavik, and Gullfoss waterfall is the furthest out at 1 hr 44 min (125 km/77.6 miles) away. The site's proximity to Reykjavik makes touring the Golden Circle a perfect day trip.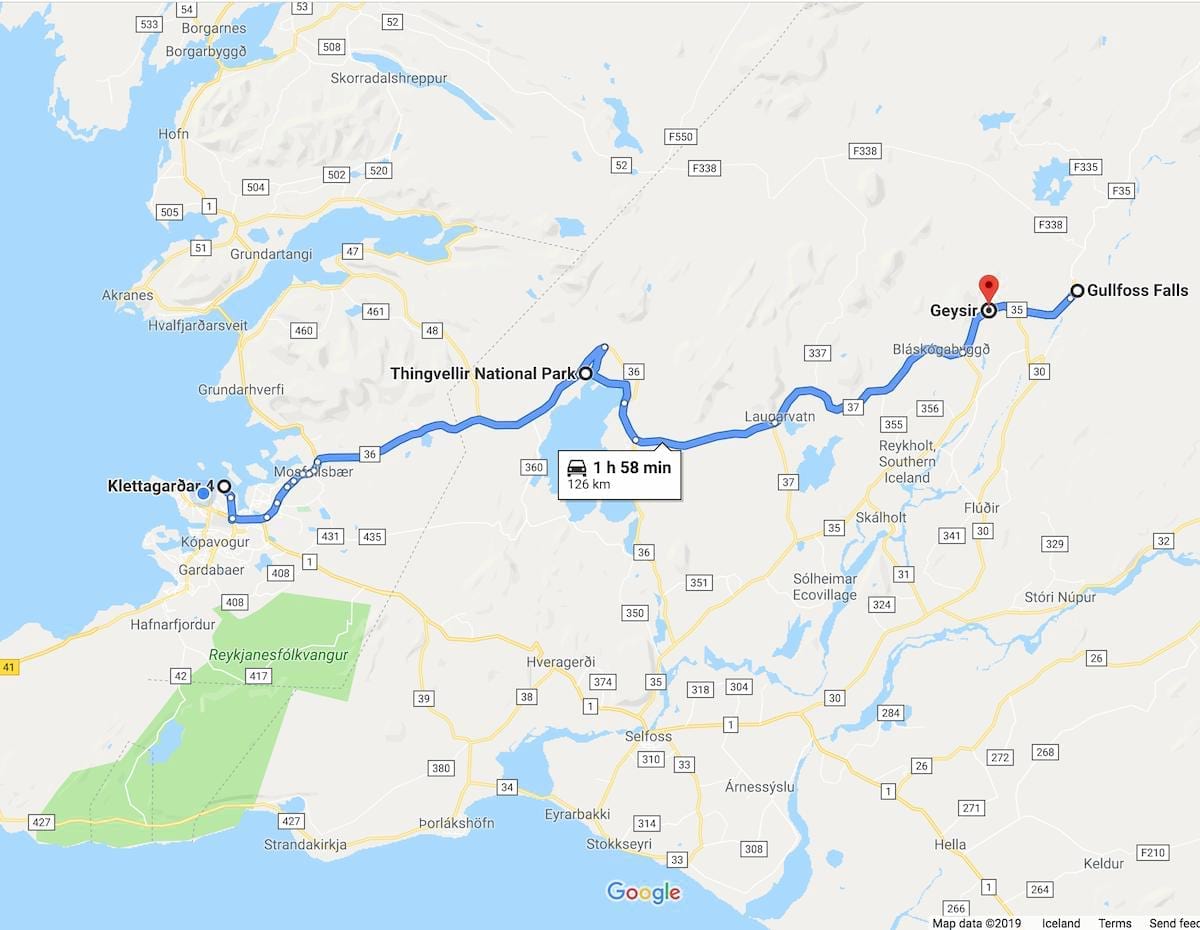 2. How long does the Golden Circle take?
The Golden Circle tour takes approximately 6 -7 hours in total.
3. Can you do the Golden Circle tour for one day?
Yes! You could even do it twice a day if you would like.
4. What does the Golden Circle tour include?
The tour includes bus transport, professional tour guide, tour in English and six other languages, free WiFi onboard, super comfortable coaches, visit of the Thingvellir National Park, Geysir Geothermal area, Gullfoss Waterfall and unforgettable memories!
5. Can you drive the Golden Circle in the winter?
If you choose to drive the Golden Circle tour on your own, we recommend it only if you are a good driver. The conditions can be awful, and the weather can change only in a few minutes from the sun to snow, black ice, and strong wind.
6. How long is the Golden Circle?
The standard route is approximately 250km.
7. Can you traverse the Golden Circle if the weather is bad?
It depends on what you classify as bad. Good weather in Iceland could be classified as bad weather in some other parts of the world. In most cases, you need to be appropriately dressed for the weather (always expect sideways rain in Iceland), and in winter, it is good to have yaktrax (walker traction) for your shoes (waterproof hiking boots are best).
8. Where to eat during the Golden Circle?
Even it is prohibited to eat and drink in our coaches, during every stop, you can buy something to eat and drink at the Thingvellir National Park, Geysir Geothermal Area, and Gullfoss Waterfall.
9. Where are the pick-up locations for the Golden Circle tour?
We pick-up from all major hotels in the greater Reykjavik area where possible. In the city center where bus traffic is restricted we pick-up from designated bus stops. We also pick up from the cruise ports, and it is always possible to join the tour at our bus terminal in Klettagarðar.
10. Do I need to know something more about the Golden Circle?
If you have more questions in mind, or if you plan to do the Golden Circle on your own, click here to find more information you would like to know.