New Year´s Eve bonfires and fireworks in Reykjavik
Make the most of your New Year's Eve holiday in Iceland by joining in the fiery fun and revelry on one of Gray Line's New Year's Eve tours.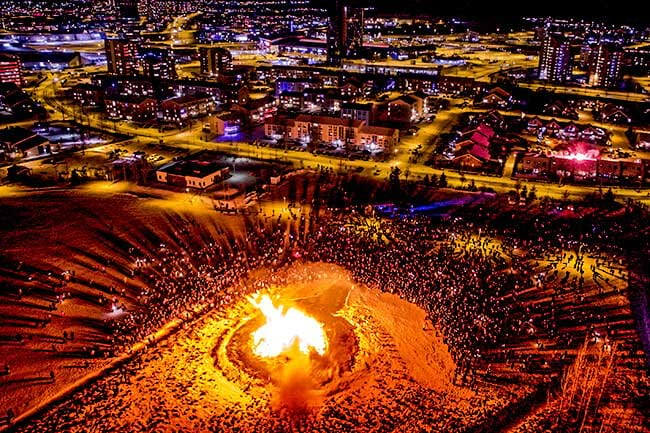 Traditionally, Icelanders lit bonfires to act as signposts to the elves trekking through the dark winter nights on New Year's Eve but whether or not you believe in the hidden people, gathering at a bonfire is a fun way to prepare to ring in the New Year.

Light it Up
Symbolically burn away the old year and get ready for the new at one of the many bonfires around Reykjavík. For Icelanders, New Year's Eve bonfires act as gathering places to meet friends and family and stay warm in the cold. These massive fires are mesmerizing and the perfect place to contemplate all that has happened in the past year and all that is yet to come in the new. Be ready to hum along to some old Icelandic tunes because chances are; some stranger will throw their arm over your shoulder and start singing to their heart's delight.

Fire it Up
Nowhere else does New Year's Eve like Reykjavík. Throughout the day, people set off fireworks here and there but as midnight nears, the sight and sounds of fireworks going off around the city grow in frequency. When the bells at Hallgrímskirkja begin to ring in the New Year, they can barely be heard above the cacophony of sound and bursts of light that fill the sky. All. Over. The. City. Every bit of the sky is filled with a dizzying array of lights. It is downright magical.

What Are You Waiting For?
Want to enjoy all that Iceland has to offer on New Year's Eve? Book a Bonfire and Fireworks Show with Gray Line; you'll even get some sparkling wine to help ring in the New Year.