Tour Itinerary
For many of us, food and sightseeing are equally important parts of the travel experience. On this tour, you get to explore Iceland's sightseeing highlights on the Golden Circle and enjoy sampling delicious local food specialties at selected establishments along the route.

Farm-to-table Cooking
For lunch, we stop at Efstidalur farm where three generations who share a love for the land and a passion for farm-to-table cooking serve a diverse selection of homemade fresh products sure to delight your taste-buds.

Restaurant inside Greenhouse
Later in the day, we drop into the family-operated Friðheimar greenhouse & café to sample some of their impossibly sweet tomatoes and mouth-watering chutneys and jams.

Farm-to-table Cooking
On our way back to Reykjavik, we swing by Íslenski Bærinn Turf House for traditional Icelandic delicacies like pancakes with whipped cream and rhubarb jelly, flatbread, and perhaps a sip of meadowsweet honey and mead. The Turf House is one of Iceland's best-preserved turf farms, the style of building that from the time of settlement kept Icelanders alive in the harsh Arctic climate.
Rich history & colliding continents
Þingvellir National Park is an attraction of great historical, geological, and cultural significance. Thingvellir is located in a rift valley where the Eurasian and North American tectonic plates meet. The UNESCO designated world heritage site is also the birthplace of the Althing—Iceland's parliament founded in 930 AD—where the nation's most powerful leaders would meet to decide on legislation and carry out brutal Viking-age justice. Thingvellir became Iceland's first national park in 1930. It is also home to Iceland's largest natural lake, Thingvallavatn.

Majestic falls
Gullfoss (Golden Falls) is a waterfall and gets its name from the golden color of its water as it churns up silt and sediment. The magnificent waterfalls lie in the Hvitá river and are fed by Langjökull, Iceland's second-largest glacier. In total, Gullfoss is 32 meters high, falling two tiers that are 11 and 21 meters high, respectively. Gullfoss is also at the center of one of Iceland's most famous acts of environmental activism. Back in the early 20th century, developers wanted to damn the mighty waterfall to generate electricity, but through the will and determination of Sigriður Tómasdóttir, Gullfoss was saved. Extra time is allotted at this location for a lunch break at Gullfoss Café.

Bubbling with excitement
Geysir geothermal area is located in the Haukadalur valley and is the scenic home of the infamous Geysir hot spring. To visit is to pay your respects to the progenitor of all geysers as Geysir is the geyser for which all others are named. Geysir doesn't erupt often but is surrounded by bubbling cauldrons of superheated mud, steaming pools, and Strokkur, a geyser that erupts every 6-10 minutes. The smells, colors, and eruptions at this popular destination are a window into all the geothermal activity happening across (and beneath) Iceland, making all those hot tubs, swimming pools, greenhouses, and geothermal energy possible.

Memories that last a lifetime
While any of these stops makes incredible fodder for your Instagram feed, they also all have rich histories and fascinating tales, each told with their own nuances by our knowledgeable guides. It's not just facts and figures that bring these places to life, but the compelling stories our guides have collected over time.
---
Frequently Asked Questions
1. Where is the Golden Circle?
The Golden Circle is in southwest Iceland, just outside of the city of Reykjavik. The nearest site Thingvellir National Park is only 43 minutes (47.4 km/29.4 miles) away from Reykjavik, and Gullfoss waterfall is the furthest out at 1 hr 44 min (125 km/77.6 miles) away. The site's proximity to Reykjavik makes touring the Golden Circle a perfect day trip.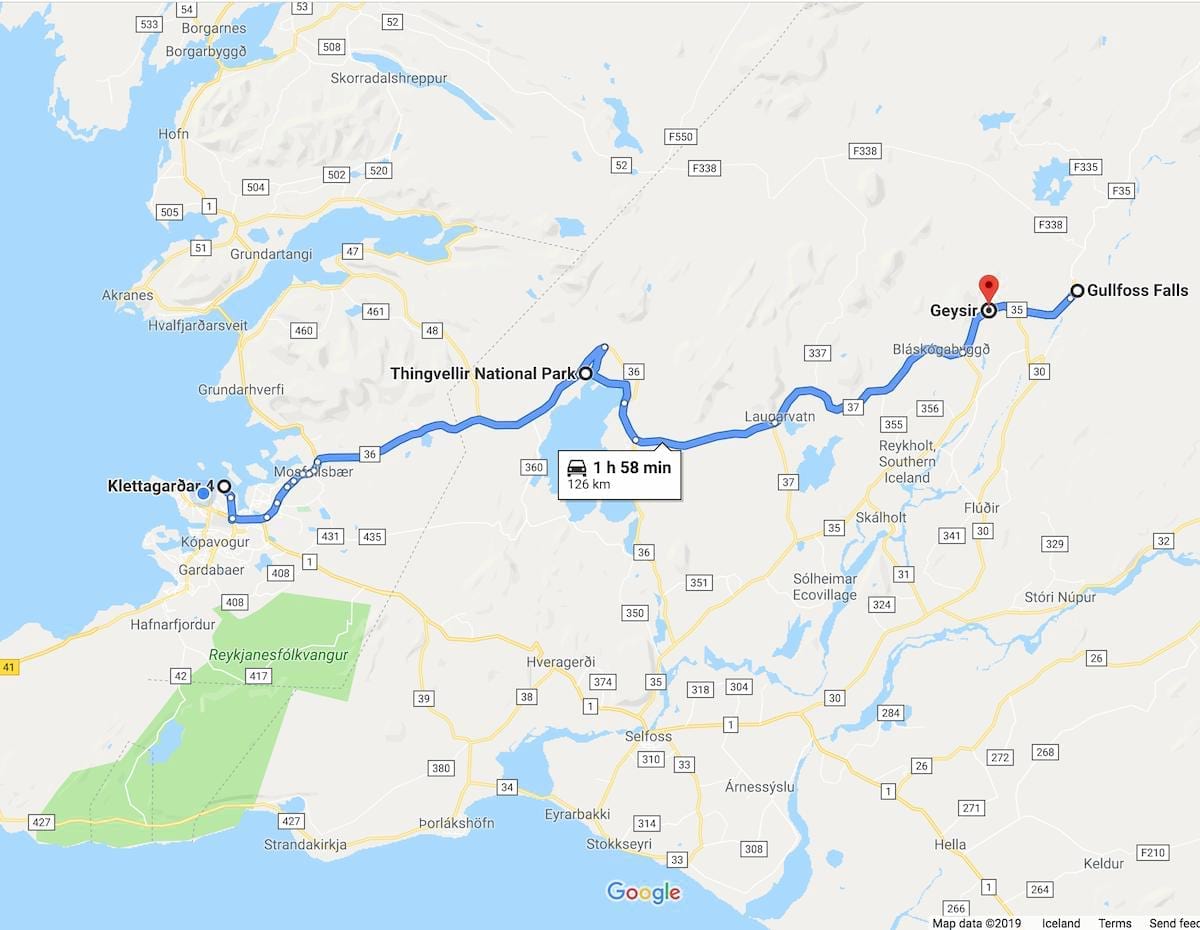 2. How long does the Golden Circle take?
The Golden Circle tour takes approximately 6 -7 hours in total.
3. Can you do the Golden Circle tour for one day?
Yes! You could even do it twice a day if you would like.
4. What does the Golden Circle tour include?
The tour includes bus transport, professional tour guide, tour in English and six other languages, free WiFi onboard, super comfortable coaches, visit of the Thingvellir National Park, Geysir Geothermal area, Gullfoss Waterfall and unforgettable memories!
5. Can you drive the Golden Circle in the winter?
If you choose to drive the Golden Circle tour on your own, we recommend it only if you are a good driver. The conditions can be awful, and the weather can change only in a few minutes from the sun to snow, black ice, and strong wind.
6. How long is the Golden Circle?
The standard route is approximately 250km.
7. Can you traverse the Golden Circle if the weather is bad?
It depends on what you classify as bad. Good weather in Iceland could be classified as bad weather in some other parts of the world. In most cases, you need to be appropriately dressed for the weather (always expect sideways rain in Iceland), and in winter, it is good to have yaktrax (walker traction) for your shoes (waterproof hiking boots are best).
8. Where to eat during the Golden Circle?
Even it is prohibited to eat and drink in our coaches, during every stop, you can buy something to eat and drink at the Thingvellir National Park, Geysir Geothermal area, and Gullfoss Waterfall.
9. Where are the pick-up locations for the Golden Circle tour?
We pick-up from all major hotels in the greater Reykjavik area where possible. In the city center where bus traffic is restricted we pick-up from designated bus stops. We also pick up from the cruise ports, and it is always possible to join the tour at our bus terminal in Klettagarðar.
10. Do I need to know something more about the Golden Circle?
If you have more questions in mind, or if you plan to do the Golden Circle on your own, click here to find more information you would like to know.